'Where will I get my burger': Delhi wonders as 43 McDonald's outlets shut
Delhiiites are wondering where they will find their budget burgers after 43 of 55 McDonald's outlets closed in the Capital due to health license and legal battle.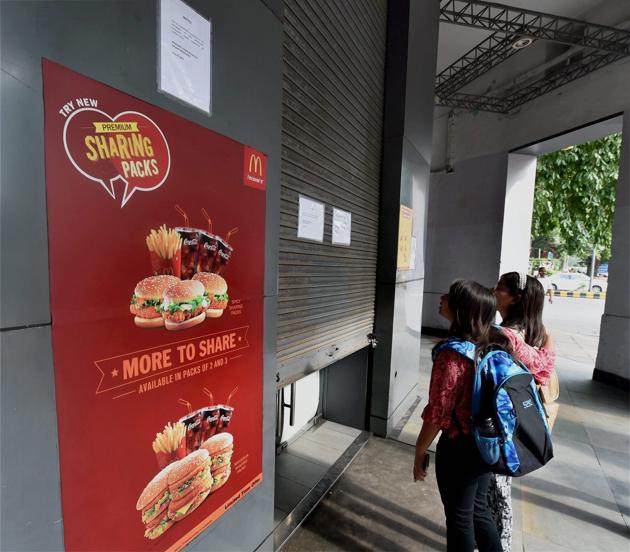 Updated on Jun 30, 2017 12:41 PM IST
If you are a glutton for McDonald's burgers, get ready for some serious heartburn.
As many as 43 of the 55 outlets belonging to the American fast food chain in Delhi temporarily suspended operations from Thursday, after its North and East India licensee failed to renew eating-house permits.
As soon as news of the development spread, Delhiites rushed to their nearest McDonald's outlets in the hope of landing one last burger before they downed shutters. Only a few emerged successful.
"I have been eating at McDonald's for several years now. Their sudden decision to suspend operations is shocking. Where will I get them now?" asked Rohit Sharma, a 29-year-old IT professional working in Connaught Place.
McDonald's burgers have been the most sought-after meal for many, from college-goers to corporate employees. "I logged on to the McDonald's website to get a burger delivered at my home. I had barely typed in my address and order details when a message that read – 'Sorry, the assigned store(s) is not able to make deliveries now' – flashed before my eyes," bemoaned 20-year-old Pooja Dubey, a first-year BTech student. "This is the final nail in the coffin. Where can I get my favourite burger now?"
Experts believe the temporary closure of these outlets will further hit the reputation of the American food chain, which had already lost its tag of being the largest fast-food restaurant chain to Dominos Pizza about four years ago.
The licensee – Connaught Plaza Restaurants Pvt Ltd (CPRL) – is a joint venture between entrepreneur Vikram Bakshi and McDonald's India Pvt Ltd (MIPL).
"The eating-house licenses of a number of McDonald's restaurants in Delhi have expired. The CPRL board is working towards obtaining the required permits. Pending this, the CPRL is temporarily suspending operations at the affected restaurants," a statement issued by the MIPL read. However, it did not specify the reason or the likely duration of the suspension.
"Though unfortunate, it is correct that around 40 McDonald's restaurants have temporarily suspended operations in Delhi from today morning," Bakshi, who is on the CPRL board, said.
Bakshi and McDonald's have been at loggerheads over control of the CPRL, and the matter is being pursued at the London Court of International Arbitration. The legal scuffle began after Bakshi was removed from the post of CPRL managing director in August 2013.
A highly placed source told PTI that more outlets in the Capital could be shut due to the CRPL's failure to renew licences.
McDonald's India spokesperson Barry Sum downplayed reports of possible job losses due to the closure. "We understand that the CPRL is retaining employees of the affected restaurants and will pay them their salary during the period of suspension," he said.
(With PTI inputs)
Close Story
Personalise your news feed. Follow trending topics