Delhi's Miranda House college says students free to click selfies
Jan 13, 2017 05:45 PM IST
The School of Open Learning's (SoL) centre at Miranda House had recently banned "clicking selfies, combing hair and modelling in the corridors" for women studying here on weekends through distance learning mode
Amid protests from students over a notice banning students from taking selfies, Delhi University's Miranda House clarified that no such rule will be imposed on students and they are free to click photos in the college.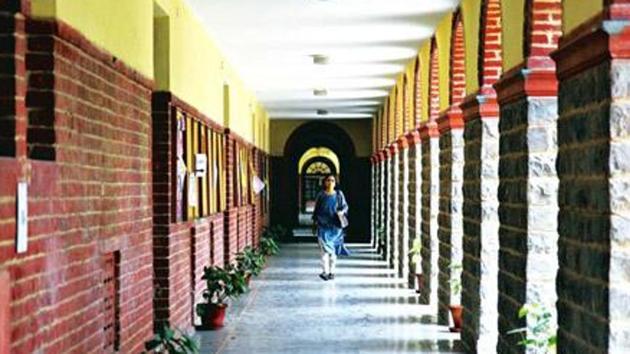 The School of Open Learning's (SoL) centre at Miranda House had recently banned "clicking selfies, combing hair and modelling in the corridors" for women studying here on weekends through distance mode.
In a notice, the authorities had said those indulging in these activities will be suspended and even asked to leave the university premises.
The college principal, Pratibha Jolly, claimed the notice was not signed by her and was brought out months ago for a particular event.
Read: No selfie, no brushing hair at Miranda House's SOL centre
"It is not signed by me and I refute it. We are a progressive college and we will never impose such rules on students. I take selfies myself so why will I ban the students from doing this," she said.
However, she had earlier said the notice was put up for safety of students. "These students perch dangerously on parapets and pillars while clicking selfies in groups. It is solely out of safety concerns that we put up this notice," she had said.
But students studying at the centre alleged they were discriminated against and were not even allowed to sit in the canteen and lawn.
"The administration treats us differently. They keep shouting on us if we sit in the lawn or walk in corridor. The regular students don't have to face all this," said a first-year student, who did not wish to be named.
The Krantikari Yuva Sangathan (KYS), a students' organisation met Jolly and were assured that the rule will not be imposed on students.
Read: DU's SRCC set to go cashless from tomorrow
The notice in Hindi reads, "Some students have been found clicking selfies, combing hair and modelling along the corridors. This is wastage of time. The university does not give permission for all this. If any student is found wasting their time, they will either be suspended from the class or will be asked to leave the university premises."
But this isn't the first time that a DU college has brought out rules for students dictating behaviour and dress code.
In 2016, Hindu College, in its hostel prospectus, had said female students must dress as per the "normal norm of society" in the common areas of the college's first hostel for girls. Following protests, the decision was withdrawn by the college.
In 2011, Daulat Ram College banned the use of mobile phones and laptops in the hostels but following protests from students the decision was done away with.
The same year, students at St Stephen's held a protest on Valentine's Day during which they gave free hugs to protest against college officials for allegedly stopping them form holding hands or getting to close.