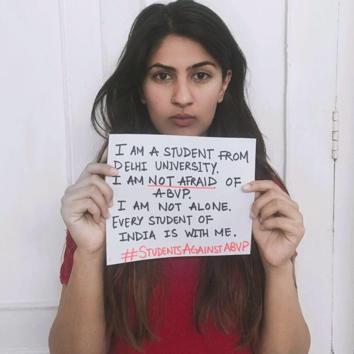 DU student Gurmehar Kaur, who took on ABVP, approaches DCW after rape threats
Gurmehar Kaur, an English (hons) student of LSR, had sought security. Delhi Commission for Women has written to Delhi Police, asking the force to provide security to the DU student and her family.
PUBLISHED ON FEB 27, 2017 11:16 PM IST
A Delhi University student and martyr's daughter, Gurmehar Kaur has approached city women's panel with complaint of receiving rape threats after she launched a campaign against RSS-backed Akhil Bharatiya Vidyarthi Parishad (ABVP).
Kaur had launched a campaign "I am not afraid of ABVP" following reports of violence at Ramjas college during a protest.
DCW has written to Delhi Police recommending police security for the student and her family. The commission has also provided two home-guards for her security.
Read: I got rape threats for opposing ABVP, says Kargil martyr's daughter
"She is getting rape threats. She has shared screen shots in which some boys are giving her rape threats. This is shameful. FIR should be lodged against these boys and they should be arrested immediately," DCW Swati Maliwal said.
Maliwal said that Kaur, who has initiated a social media campaign advocating peace in universities, is being subjected to extreme abuse and rape threats online. "The complaint is self explanatory and contains relevant screen shots of rape threats and abuse as evidence, which is attached herewith for your perusal," she said in the letter.
Maliwal said it was highly unfortunate that a strong and independent young girl is being threatened and abused for taking a stand against hooligans. "Immediate registration of FIR under relevant sections of IPC, IT Act and other laws against the persons who have abused and threatened Ms. Gurmehar Kaur online," she said.
The letter was also sent to Home Minister Rajnath Singh, Delhi's Lieutenant Governor Anil Baijal, Delhi chief minister Arvind Kejriwal.
Read: Sehwag, Randeep Hooda's response to DU student's stance triggers Twitter war
Kaur had last week changed her Facebook profile picture holding a placard which read, "I am a student from Delhi University. I am not afraid of ABVP. I am not alone. Every student of India is with me. #StudentsAgainstABVP".
"This is not about politics and political parties. It is about students on campuses being safe from violent threat. It doesn't matter what organization it comes from. No matter who you are, and for which organization you belong to cannot threaten women with rape," she said.
Close