A rebuke from the government will stop forces like the ABVP in their tracks
Updated on Feb 27, 2017 08:07 PM IST
Prompt action against those threatening Gurmehar Kaur would send the right message at a time when tempers are running high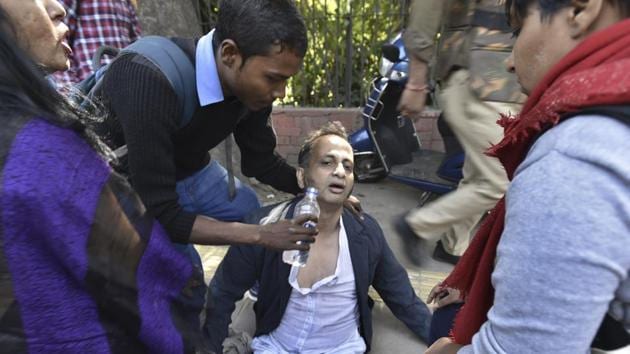 She has become the face of opposition to the depredations unleashed by the Akhil Bharatiya Vidyarthi Parishad (ABVP) on the premises of Ramjas College. Owing to her vow not to cowed down by the ABVP, Gurmehar Kaur, daughter of Captain Mandeep Singh who was killed in 1999 in the Kargil war has become the target of the pseudo-nationalists who have taken it upon themselves to judge people's patriotism and nationalism. She has reportedly been getting threats on social media calling her an anti-national and more worryingly of rape. Unfazed by this, the ABVP spokesperson has said that it would protest if it saw any threat from anyone to the integrity of the nation. A student protest seems hardly likely to threaten the fabric of the nation, but such is the intolerance displayed by the self-styled custodians of nationalism that the ABVP's statement comes as no surprise. It is one thing to oppose someone on ideological grounds, it is quite another to threaten them with violence as seems to be happening to Gurmehar Kaur. The police stood by while ABVP goons wreaked havoc on the campus of Ramjas College, this is now common practice in the face of hyper-patriots going on the rampage in various parts of the country. But a threat of rape cannot be taken lightly.
Since the police seem quite adept at identifying those who post messages which are purportedly anti-national, they should not have too much difficulty finding those who are issuing threats to the student. These ugly remarks and threats move the whole thing outside the theatre of student politics into the realm of criminality. The student must be given protection. Given her background, she by no means fits the ABVP's definition of anti-national or unpatriotic. It would seem that anyone who has a dissenting opinion from that of the so-called nationalist forces will not be tolerated, indeed they are in danger of facing violence. The ruling party and other political forces must speak up on this. A sharp rebuke from the government will stop forces like the ABVP in its tracks. This threat goes beyond being only a women's issue, it is an attack on the fundamental right to express an opinion which the likes of the ABVP and its backers do not find comfortable. It is only when action is taken against those who seem emboldened to make criminal threats that this will stop.
It has become the norm to intimidate students, writers, professors, filmmakers and journalists to name a few when they express an independent opinion in any medium. India's social fabric is not so fragile that it needs protection from these anti-social elements. Prompt action against those threatening the student would send the right message at a time when tempers are running high on all sides.
Personalise your news feed. Follow trending topics