Jat stir: Delhi dodges major water crisis but woes far from over
Feb 23, 2016 07:15 AM IST
Rampaging Jat demonstrators had laid siege to the 22-km Munak canal, which supplies 60% of the city's total water requirement, until the army took control of the lifeline on Monday.
The Capital escaped by the skin of its teeth from a grim water crisis on Monday after the army took control of the 22-km Munak canal, which was sieged by the rampaging Jat protestors.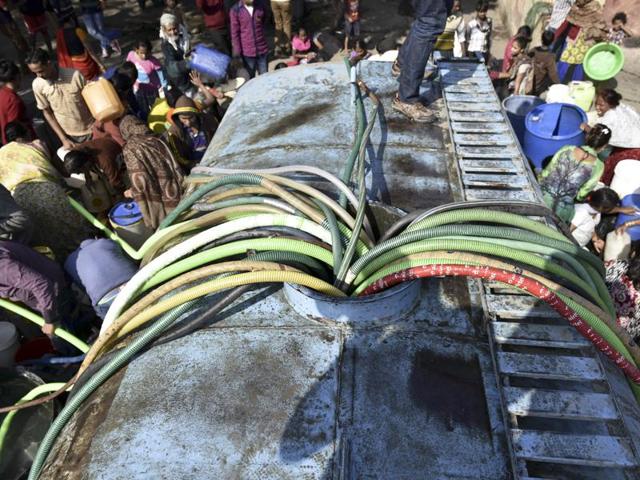 Constructed seven years ago to carry 700 cusecs of Yamuna water to Delhi every day, the canal was damaged extensively in different locations during the Jat stir. It will take days to repair, sparking fears of continued shortage.
"Water from Haryana comes to Delhi via the Munak canal as well as drain number 8. When the canal gates were closed and damaged by Jat protesters, Haryana diverted supply through drain 8. It is highly contaminated with unusual levels of ammonia," city water minister and Delhi Jal Board chairperson Kapil Mishra said.
Supply marginally resumed in the city on Monday evening but fluctuating contamination levels at the Wazirabad pond remained a major cause of worry.
"The Wazirabad treatment plant has started functioning with around 25% capacity, which is expected to go up to 50%. Chandrawal and Okhla plants will start soon too. Contamination at Wazirabad pond has been controlled. However, we might have to close treatment operations again on Tuesday morning," Mishra said.
"Haryana has released water through drain 2 and 8. It is expected to reach Wazirabad on Tuesday morning but the quality of this old drain is questionable," he said.
Read: SC asks Jat protesters for calm, raps AAP govt over Delhi water crisis
The Okhla, Wazirabad and Chandrawal plants were functioning at 50% capacity at 9pm, which means 120MGD of water will be available for the city. At 100%, Delhi will get 240MGD.
Munak canal was badly damaged at Mandora, 20 km from the Hyderpur plant in Delhi. The city government has asked for army engineers to carry out repairs.
Minister Mishra has written to Haryana chief minister Manohar Lal Khattar, seeking his help to resume water supply to the city.
Seven water treatment plants in Delhi were closed after Jats took over the Munak canal. All of Delhi's reserves were exhausted by Sunday afternoon as the city received just 240MGD of water, instead of the normal supply of 900MGD.
The AAP government declared a school holiday on Monday because of the water crisis.
It went the Supreme Court too but found itself cornered. The top court told the government to work with Haryana to resolve the crippling crisis, rather than knocking on the judiciary's doors.
Read: Jat protests, JNU to be ammo against BJP in Budget session
Chautala wants Khattar govt dismissed, blames Hooda for violence