Ease pressure on students
Jan 30, 2023 08:19 AM IST
Longstanding issues with education have pushed many young people to the brink. As the PM's event highlights, this must be fixed
Since the turn of the millennium, India has transformed. Brisk growth has deepened aspirations, pulled millions out of poverty, and imbued a new generation with the hope of mobility through salaried jobs in the formal sector. But, unfortunately, the expansion in higher education opportunities, especially quality ones, has not kept pace, prompting crushing competition among hundreds of thousands of students for a handful of seats in elite institutions. This has led to young people crumbling under the weight of expectations, even as stress and anxiety have blighted the high school exper-ience and soaring scores have come to mean little.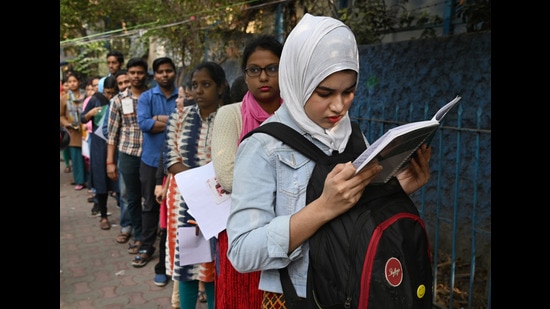 This is an alarming situation, especially in a country emerging from the shadows of three pandemic-struck years, where the absence of classroom instruction decimated learning levels, where the number of students opting for private tuition is burgeoning, and where signs of distress among marginalised communities are evident. These structural problems, coupled with decades of underfunding and neglect, have left many State-funded institutions moribund, causing a further mushrooming of coaching centres.
The jostle for a once-in-a-lifetime shot at prosperity has claimed scores of lives in the past decade in India's coaching hubs. A report by the Tata Institute of Social Sciences in 2018 found many students depressed, ill, anxious, and unable to deal with the breakneck pace of coaching. Still, parents pour into these hubs with the hope that their sons — and yes, it's still mostly sons —- will succeed in some of the world's toughest exams and pull their families out of low-income drudgery.
The dangerous phenomenon is affecting the health and futures of India's young, as exemplified by a number of questions asked at the Pariksha Pe Charcha event helmed by Prime Minister (PM) Narendra Modi. Since 2018, when he first began interacting with students, many have asked for advice on dealing with stress and fatigue, and the pressure of competing in an increasingly intense academic environment. On Friday, for example, Mr Modi told students that the difference of two to three marks in a particular exam-ination didn't matter in the long run. Importantly, he spoke on criticism that comes towards exam-bound students, and said it was important to know the source of criticism. "There is a very thin line between criticism and obstruction. Parents must criticise in a constructive and positive way," the PM added.
The easing of pressure is indeed the need of the hour. Two caveats are important. One, it is not a call for students to not work hard or apply themselves. As is evident, in a deeply unequal society with multiple fault lines, educational achievements are often the one ladder of mobility available to the generationally underprivileged. And two, fixing such an intractable problem will need urgent and sure-footed responses from the government, policymakers, educational institutions, and society. Bolstering the school education system, investing in teachers, and better designed exams can address aspiration without deepening inequality or pressure. Ensuring that quality universities thrive and creating more education hubs can ease pressure on top metropolises. Some young people give their best in high-pressure environments, and some wilt. Parents and teachers must be counselled to ensure that students on the cusp of adulthood are not burdened with unreal expectations, and not pushed to the breaking point. It's not worth it.
Enjoy unlimited digital access with HT Premium
Subscribe Now to continue reading