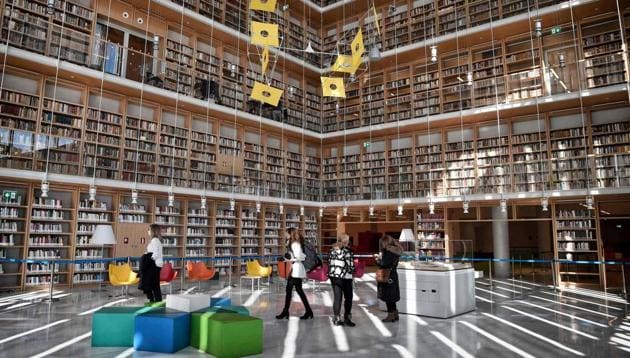 Make libraries great again
In a country such as India, where not everyone has huge spending power, libraries can be much-needed hubs of information and access. Well-maintained public libraries – well stocked with books, freely accessible computers, and good reading spaces — could help attract curious young people and allow them to fill in gaps left by the education system
PUBLISHED ON MAR 17, 2018 03:31 PM IST
Gladstone's Library in Wales is a rare residential library, in which members of the public can visit and stay in one of the 26 bedrooms, while having extended access to the many books in the library. One can take books to one's rooms or curl up in any number of nooks in the vast Victorian Gothic building. The place even has an honesty bar (a bar with no bartender, where payment is left to the honesty of the guest). The library now also hosts a retreat for writers, in which well known authors such as Naomi Alderman have worked. In an era in which libraries are looked upon as relics, spaces such as Gladstone's are a reminder of how much use libraries can still be to the public.
But while Gladstone's library caters to adults who choose a library experience (presumably because they already love books, libraries and quiet retreats), perhaps it is an important question to ponder whether libraries are likely to be relevant 100 years from now. As it becomes easier to buy books instead of borrowing them and books themselves become electronic while also taking a backseat to other forms of attention-occupying activities, will a near-future generation of people be one that has never known the small but significant guilt of a large library fine? Are libraries even relevant any more?
In a country such as India, where not everyone has huge spending power, libraries can be much-needed hubs of information and access. Well-maintained public libraries – well stocked with books, freely accessible computers, and good reading spaces — could help attract curious young people and allow them to fill in gaps left by the education system. Libraries need not be dusty repositories of outdated tomes. They can be vibrant, exciting, open institutions that can become spaces of discovery and learning, allowing people to discover – at their own pace – everything from the mysteries of the universe to fictional exploits of superheroes. In areas with little infrastructure in schools and no access to computers and the internet, libraries can act as important safe spaces that provide that much-needed infrastructure and access.
Libraries shouldn't just be old buildings filled with old books. They are hubs of history and literature, culture and art. With a little effort (and some generous funding), India's libraries can be made relevant to the contemporary era – even if only as spaces in which to take a breath, pause, and enjoy that glorious smell of old books for a little while.
Close