New Bill gives India's 70 million disabled reasons to smile
Updated on Dec 16, 2016 05:31 PM IST
In an otherwise acrimonious Parliament session, the passage of the Disabilities Bill showed what a united House can achieve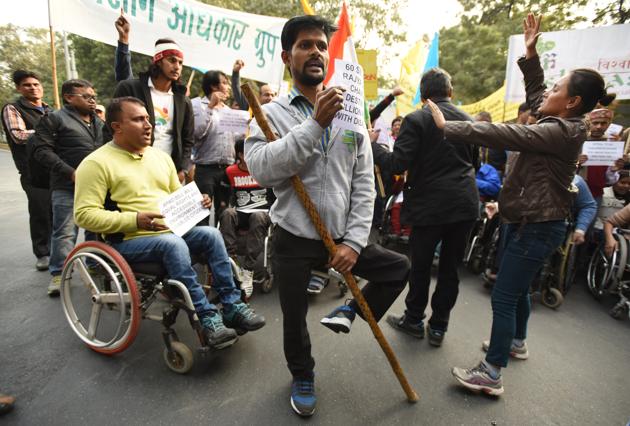 It was a rare display of bipartisan conduct by the Opposition and the government on the last day of the winter session of Parliament. One of the solitary bright spots to emerge out of the session, which was mostly washed out in the wake of the acrimony between the government and the Opposition on demonetisation, was the passage of the Right of Persons with Disabilities Bill, 2014, in the Lok Sabha. It was passed in Rajya Sabha on Wednesday.
Read: Lok Sabha passes disabilities bill on last day of winter session
The Bill, which complies with the UN Convention on Rights of Persons with Disabilities, increases the number of recognised disabilities from 7 to 21, including disability due to acid attacks, Thalassemia, Haemophilia, Muscular Dystrophy, Learning Disabilities and Parkinson's. According to the 2011 Census, the number of disabled in India stands at 2.68 crore. With the passing of the Bill, the official count of disabled in India is set to rise and going by conservative estimates, the figure could be between 70-100 million.
Historically, the three big disability groups – the orthopaedically disabled, the blind, and the deaf - have gained from the various entitlements. In that sense, the new Bill will reduce the gap between the haves and have-nots. Crucially, the Bill provides for access of public buildings for the disabled, sorely needed in a country with an infamously inaccessible built environment. It sets the government a two-year deadline to ensure persons with disability get barrier-free access in physical infrastructure and transport systems. Additionally, it will hold the private sector accountable for creating an accessible environment. This includes educational institutions funded and recognised by the government such as privately owned engineering and management colleges. One of the path-breaking features of the Bill is raising the reservation in government jobs for the disabled from 3% to 4%. It also has a clause against places of employment discriminating against people with disabilities. The Bill provides for imprisonment up to two years, along with a fine ranging between Rs 10,000 and Rs 5 lakh for those discriminating against the differently-abled. Special Courts that will look at the issues affecting the physically challenged, feature among the other proposals.
Read: Disabilities Bill passed. Here's all you that you need to know
The new law, when enacted, will repeal the old Disability Act, 1995. Just making it took more than five years. Since it was tabled in 2014, the Bill has been examined by the standing committee, the Group of Ministers, the PMO, and the Cabinet. Calling the Bill a game-changer, many activists have hailed its passing as a sign of maturing of the disability movement in the country. The hurt from years of discrimination has been replaced by a feeling of empowerment and pride.
Personalise your news feed. Follow trending topics