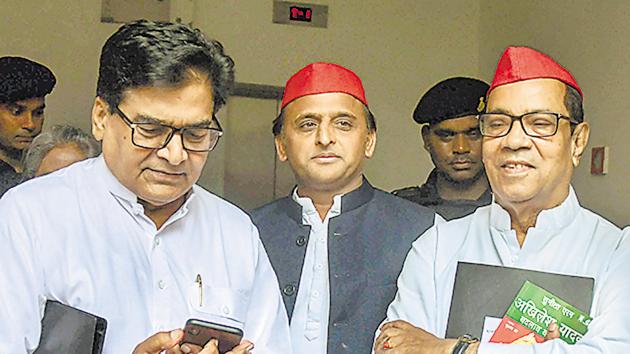 The SP can't afford another power tussle before the 2019 elections
The absence of the party's chief patron Mulayam Singh Yadav and his brother Shivpal Singh Yadav from the national executive meeting had created some consternation in the party's rank and file
UPDATED ON AUG 01, 2018 07:05 PM IST
The authorisation to the national president to decide on electoral alliances is by now a political norm, not an aberration. Thus, the national executive of the Samajwadi Party (SP) has gone down the path taken by other regional parties and the Congress by authorising its national president Akhilesh Yadav to negotiate alliances for the 2019 Lok Sabha polls and the assembly elections in Madhya Pradesh and Rajasthan.
For a party infamous for having multiple power centres, it is a judicious decision to state clearly who exactly is in charge of striking electoral alliances, itself no easy task. At stake is every Lok Sabha seat. Still, the absence of the party's chief patron, Mulayam Singh Yadav and his brother, Shivpal Singh Yadav, from the national executive meeting did create some consternation in the party's rank and file.
The thaw after the intense family feud appears fragile and tempers could run high if not handled with care. The family must know that the party cannot afford another tussle before the elections. Though Shivpal's control in the party has weakened considerably since Akhilesh was first elected the national president in January 2017, he can still damage the SP in the Yadav belt of Etah-Etawah. Mulayam will have to hold back his brother whose supporters have talked about floating a new party.
The BJP will stoke the differences in the family as this will be beneficial to the saffron party. Mulayam Singh, notwithstanding his flip flop, has supported his son in his succession war against his brother. There is another good reason why Akhilesh is in-charge of alliances. Mulayam has generally shunned alliance politics after the inception of the SP in 1992. He has a good rapport with the Gandhis, but finds an alliance with the Congress party unpalatable though he is not averse to a post-poll relationship. Today, he favours an alliance with Mayawati's BSP though there is no love lost between him and the BSP leader. Akhilesh, on the other hand, starts with a clean slate.
Finally though, few can understand Mulayam's politics. It could be another move by him to do some backseat driving!
Close