Vivek Tiwari murder: UP police have a lot to answer for
Updated on Oct 02, 2018 01:14 PM IST
The massive public outcry over the killing has rattled the chief minister Yogi Adityanath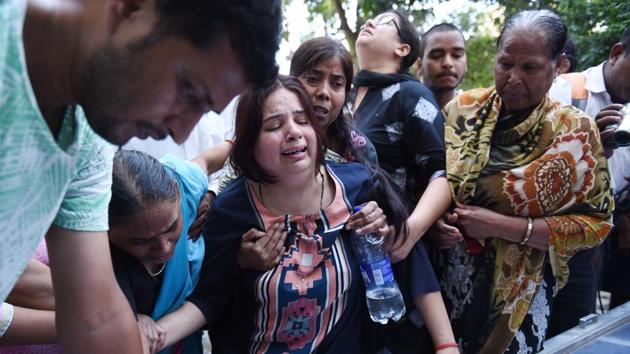 Prashant Chaudhary, the policeman who shot and killed 38-year-old Apple India executive, Vivek Tiwari, was dubbed Chota Don by his colleagues for his participation in an agitation in 2016 over a delay in police recruitments. Yet, no one seems to have checked his background or ensured that he underwent appropriate training in how to handle fraught situations. This is a worrying issue when it comes to Uttar Pradesh's 1.8 lakh-strong police force. The state has never been known for exemplary law and order. But now, it appears as though policemen are as trigger happy as the criminals they are meant to apprehend. The public outcry over the killing has rattled the chief minister, Yogi Adityanath. The government is disturbed by the fact that its claim that the law and order situation has improved has been derailed ahead of parliamentary polls next year. The Opposition has found this a convenient stick to beat the government with. But the main issue here is of both poor policing as well as the impunity with which the policeman in question acted.
The killing of Tiwari should catalyse a discussion on the alleged police encounters, which have become common place in UP and of which the government seems proud. According to the police, there have been 1,481 alleged encounters in the state since March 2017. In these encounters, 67 criminals have been killed, 396 wounded and another 2,800 arrested. Some believe that most of these encounters were staged. The Lucknow incident was a case of police excess. For instance, a 12-year-old boy was killed in Firozabad in 2017; his crime was to accidentally step on a policeman's toes at a wedding.
After every such incident, the police talk about the need for "systematic reforms through behavioural training and humanisation of the force". But the reality is that indiscipline has been growing. The police must investigate where and when the policeman who killed Tiwari was recruited, on whose recommendation, and whether any training was given to him. If UP lags behind in police reforms, the blame rests squarely with the political class which control the force.
Personalise your news feed. Follow trending topics