DU's Bhaskaracharya College has a transgender loo but no trans students
Apr 08, 2018 04:15 PM IST
Built two years ago, the transgender washroom at this college hasn't been used even once. The reason? There are no transgender students in the college to use it.
Delhi University (DU) has been consciously trying to offer its students an inclusive culture. Many colleges have committees and support cells to help transgender students. Some colleges are also making sure that the infrastructure is trans-friendly. Bhaskaracharya College of Applied Sciences (BCAS), for instance, has a separate washroom for transgender students. Unfortunately, it has never been used, even after two years of construction.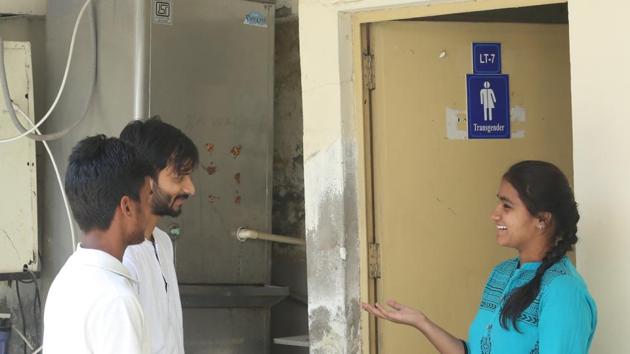 "We had the washroom for transgender students made sometime around August 2016, but these have not had even one user till now," says principal Balaram Pani. When asked why, Pani explains, "We are waiting for a transgender student to take admission."
However, the fact that some students might have not come out as transgender is not entirely lost on the college authorities. Therefore, the ladies' washrooms of the college also have male urinals installed. "A lot of times, transgender students don't come out in the open about their sexuality, so these urinals have been installed for them," says Bhavna Singh, the joint secretary of the students' union. "If there is any female student who has male body parts, she can use the urinals," she adds.
But it looks like the general atmosphere needs to change, too. For even in case of emergencies, "no one has ever used this loo [as it is meant] for transgenders, perhaps", says Singh. "There's only a latch toh use toh koi bhi kar sakta hai (Since there's just a latch, anyone can use this washroom), but no one ever even looks this way," adds Singh. "Even if the other loos are full or dirty, kisi ko yaad bhi nahi rehta ki ye waala [washroom] yaha hai bhi (Nobody remembers that this washroom is available too)."
Many see such moves as a ray of hope for the queer community. Simran Arora, a transgender student in the Capital, believes that the introduction of transgender-friendly facilities will bring a major relief for trans students. "Trans people majorly consider three professions — fashion designing, makeup artistry, and modelling. However, if such facilities are introduced, more trans students will enrol for higher studies. Padhna kaun nahi chahta hai? (Who doesn't want to study?)," she quips.
The question that begs to be asked is: Why don't transgender students take admission in regular colleges? Neetu Kumar, another transgender student at IGNOU, tells us that while infrastructure may be friendly at such institutions, the people are not.
"The experience of studying in a regular school or college is so disastrous that we avoid it altogether. The discrimination starts during our teen years, and it and only worsens as we grow up. Words such as lugaai (wife) and r**** (whore) are commonplace," she explains.