In viral video, Congress leader says 'Allahu Akbar' in Gujarat; clarifies later
Published on Nov 27, 2022 07:37 PM IST
Congress leader Indranil Rajguru said when he said 'Allahu Akbar', 50,000 Muslims chanted 'Har Har Mahadev', but BJP did not show the full video.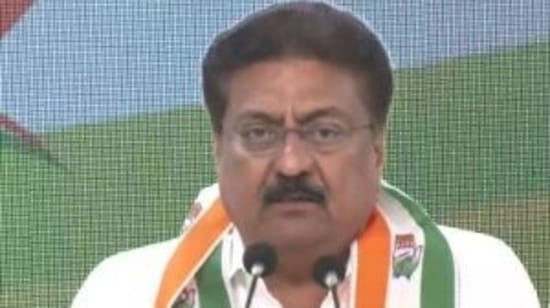 The video of Congress leader Indranil Rajguru chanting 'Allahu Akbar' at a rally in Gujarat has gone viral drawing the epithet of 'anti-Hindu' ahead of the Gujarat Assembly Election. Issuing a clarification, the leader who rejoined the Congress after briefly switching to AAP said, the reality of the video is different.
"I asked them (the public gathering) that if I do not feel ashamed in taking Allah's name, then should you feel ashamed of taking the name of Mahadev? When I said 'Allahu Akbar', then 5,000 Muslims chanted 'Har Har Mahadev'. This is the reality of the video," Indranil Rajguru told PTI. He will be contesting from the Rajkot (East) seat.
Full coverage of Gujarat Election 2022
"In my view, Mahadev and Allah are the same. . Mahadev resides in Ajmer, and Allah resides in Somnath. I feel joy in taking my Hindu brothers to Lord Mahadev (Somnath) on a bus. But I feel the same joy when I go to Ajmer with trains full of people...Those who seek to reform us should know we are all human beings. Allahu Akbar. Har Har Madev," he said at the gathering.
As the BJP made an issue over the remarks, Rajguru said only a part of his speech was being made viral. As he said Aalahu Akbar, Muslims at the gathering chanted 'har Har Mahadev'.
Rajguru's opponent from the Rajkot (east) seat, Uday Kangad said he should not have said
Mahadev resides in Ajmer and Allah resides in Somnath. "There is a great difference. Such a statement is objectionable for the Hindu community...Somnath is revered across the country, is the first jyotirling. One should not say something like this," the BJP contestant said.
Religious leader from Ahmedabad Chaitanya Shambhu Maharaj condemned the statement. "This is an example of how low a person can stoop for votes. By such a statement he has insulted not just the Hindus but also Muslims...This is just an attempt to woo Hindu and Muslim voters," he said.
(With PTI inputs)