Faraaz trailer: Shashi Kapoor's grandson Zahaan faces off against 'Islam ke thekedaar' in Hansal Mehta film. Watch
Jan 16, 2023 03:17 PM IST
Faraaz trailer: Shashi Kapoor's grandson Zahaan Kapoor wins heart with his debut performance in Hansal Mehta thriller. Paresh Rawal's son Aditya Rawal has a prominent role. Watch
The official trailer of director Hansal Mehta's latest thriller Faraaz was released by T-Series on its YouTube channel on Monday. The over-two-minute-long trailer begins with a glimpse of customers enjoying their meals at the Holey Artisan cafe in Dhaka, Bangladesh on July 1, 2016. Actor Zahaan Kapoor, son of Kunal Kapoor and grandson of late actor Shashi Kapoor, also features in the trailer as one of the customers. Faraaz marks the debut of Zahaan. (Also Read | Faraaz: Hansal Mehta shares poster of his next film, based on our 'polarised times')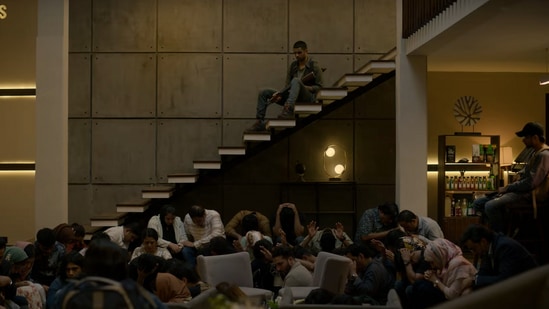 As people enjoy a quiet meal in the evening, several terrorists barge in and shoot people randomly. Actor Paresh Rawal's son Aditya Rawal is seen as one of the terrorists in the trailer. While the Bangladesh Police chalk out their plan to bring the hostages out of the terrorists' grip, Aditya's character tells Zahaan, "Faraaz Hussain, Bangladesh ka Shehzada (Bangladesh's prince)?" Faraaz was a 20-year-old who was murdered in the 2016 attack. He was the grandson of Latifur Rahman.
As the police make plans for an attack, Zahaan is seen saving children and fighting with the terrorists inside the cafe. The trailer ends with Zahaan being pushed by Aditya's character and asking what he wants. He replies, "Tum jaeso se apna Islam wapas chahiye (I want my Islam back from people like you)."
The line was a hit with the fans who praised it in the comments section. A person said, "'Tum jaeso se apna Islam wapas chahiye', what a punch." Another fan said, "Trailer is promising that story is full of thriller suspenseful and action. Can't wait." "The names of Hansal Mehta and Anubhav Sinha are enough," read a comment. "What a topic to be seen and discussed. Can't wait to see it!" wrote another person.
Earlier talking about the storyline, Hansal had said as quoted by news agency ANI, "To me, Faraaz is a story of our polarised times. Through the one event that rocked Dhaka -- the 2016 attack on the Holey Artisan cafe -- I've tried to explore the broader theme of violence and what really drives young, vulnerable minds towards it."
"Designed as a nail biting thriller that plays out over one tense night, my attempt with Faraaz has also been to shine a light on the immense courage and humanity that it takes to stand up against violence. Because standing up against bigotry and the carnage it triggers is the only way to defeat it," he added.
Faraaz is set to release in theatres all across the country on February 3. The film is jointly produced by Bhushan Kumar's T-Series, Anubhav Sinha's Benaras Mediaworks along with Mahana Films - Sahil Saigal Sakshi Bhatt and Mazahir Mandasaurwala. The film had a grand world premiere at the BFI London Film Festival in 2022.