Sonu Sood recalls Jackie Chan, dressed in shorts and baniyan, cooking for him at midnight: 'He's a very grounded person'
Published on Aug 09, 2022 08:06 PM IST
Sonu Sood recalled his experience of working with Jackie Chan in the 2017 action adventure comedy Kung Fu Yoga. He praised the Chinese actor for his grounded nature.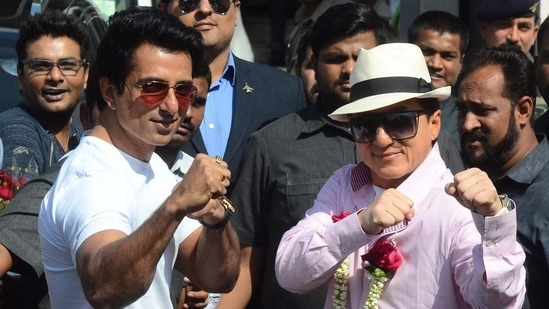 Sonu Sood recently praised action star Jackie Chan for his grounded nature as he recalled his experience of working with him. Sonu and Jackie had starred together in the 2017 action adventure comedy Kung Fu Yoga, which also featured Disha Patani, Amyra Dastur, and Chinese actors Aarif Rahman, Lay Zhang, and Miya Muqi. Sonu revealed that Jackie even once cooked a meal for the actor and his friend late at night. Also Read| Sonu Sood: I feel lost at Bollywood parties, that's a different clan
Sonu opened up about the time he spent with Jackie Chan during the filming and promotions and described him as a ground-to-earth person. Sonu also spoke about how many of his industry colleagues are different in that nature and try to create distance between them and others to create an illusion of stardom.
Sonu told Mashable India about working with Jackie, "It was a very good experience. I had a good tuning with him. He's a very grounded person. He will come to sets with a fruit packet which he will keep feeding to light man, spot boy, and actors. He will even sit on the ground and eat. At night he will say I will cook for you. I had a friend with me, and Jackie Chan made food for us in a kitchen that was only slightly bigger than this car. He was wearing shorts and a baniyan (vest). My friend could not believe it, that it is 12:30-1:00 am in the night, and we are hungry so Jackie Chan is making food for us. And if you leave food on the plate, he will ask your permission and finish that food."
The actor added, "Some actors try to create an illusion and a bubble, that an actor should behave like this, eat like this, and not open up. Some actors will create a lot of noise when they will go out, their bodyguards will say 'hat jaao, piche hat jaao (move back)' when there will be no one near them. I ask who are you talking to? But they think it's important to show that they are passing. They think that if they are unapproachable, their stardom will also be seen."
Sonu was last seen as the antagonist in Ram Charan and Chiranjeevi-starrer Acharya. He will be next seen in the upcoming Tamil film Thamilarasan. He will also be seen as the lead in the Bollywood film Fateh, an action thriller directed by Abhinandan Gupta.
Topics
Personalise your news feed. Follow trending topics