Sanjeev Maurya on the casting of Trial by Fire: 'We focused on each character- even if they had one scene'
Jan 25, 2023 08:06 PM IST
Casting director Sanjeev Maurya revealed how the casting process for Trial By Fire involved a huge audition process with more than 3500 actors, and how Rajshri Deshpande came on board as Neelam.
Casting director Sanjeev Maurya, who has worked for projects like The White Tiger, A Suitable Boy, Extraction, Angry Indian Goddesses, reveals how the casting process of Trial by Fire involved a completely different audition process, and how the team auditioned for more than 3500 actors for the smallest characters in the acclaimed Netflix series, created by Kevin Luperchio and Prashant Nair. (Also read: Trial by Fire review: Netflix series based on 1997 Uphaar tragedy is a triumphant reminder of the cost of resilience)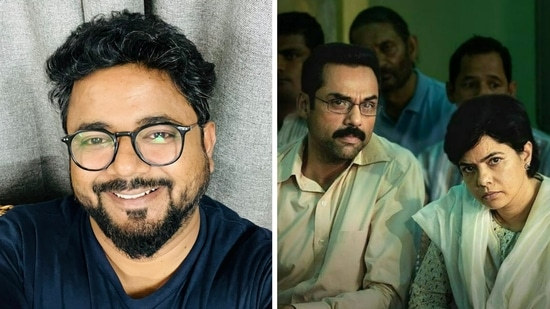 One of the strongest factors for me that worked in Trial by Fire has been the casting. How has the reception been?
I will start by the journey that this kind of a project saw. It was a very different process, which started just a week before the first lockdown. So, Prashant (Nair) came over to Delhi to narrate the story and asked inputs. I stood up and said, 'Listen, I do not see any star. I just want correct actors who I can believe as the characters.' He also had the same thought and then the process began. He handed over the bible, because the script was not ready yet and I read it and then, suddenly lockdown started. No one knew in the world how long this lockdown would go. We were just doing our groundwork in the meantime, and then the stage of audition came in. Zoom was introduced in the world and we figured out that we had to continue without the scene for the auditions, so me and my team sat down and created the scenarios for all the characters. There was no boundary with dialogues or timeline, we just gave them the situation and they had full freedom to say anything and then we would give the cues accordingly. It was a beautiful experience where everyone learnt and grew up with the team. Prashant loved the way because it was real.
Since Trial By Fire is based on an account of a real life tragedy, what were some of the approaches to the casting process since you also had the responsibility to do justice to the story?
Yes, during the audition scenes my team and me were aware because we had the story, so we didn't really focus on specific information of starting at a point and then stopping there. We used to make sure there was a sense of control via the dialogues to get them back on the scene. It was all happening in a very organic and natural way. In my 13 years of casting experience, I have seen very few projects like these where directors are so open to see what are the best possibilities.
Rajshri Deshpande delivers a haunting performance in the series as Neelam. How did she come on board? Tell us about her casting process.
So before Rajshri, we auditioned a lot of actors who are big names in the industry, A-listers were also offered the part. We got a no from a couple of them. Prashant and me wanted someone who can devote time and space for the character. Neelam is not an easy character, her journey expands over 20 years with that situation and she grew up with the time. So, we were very sure that we want someone who can give her complete self on this- both mentally and physically. That was a big challenge. We approached Rajshri, when she was shooting for some other project. We sent her the material and gave her time to read it and told her that we were going to do a live audition on Zoom. I remember she was in a hotel room when she auditioned! After her audition Prashant (Nair) and me were very sure that she was the correct person.
There's another thing I want to add about her that there are very few actors who can actually go through a process and work really hard for auditions. Very few actors come prepared for the audition itself, which shows that they are doing this much for audition then will give 120% on the set. She is one of them.
One of the standouts were the small arcs in Trial By Fire, especially there was one arc that involved actor Kiran Sharma, who played the character of Rajesh Tailang's wife. She was phenomenal in it. How did her character come through, was it already known that there would be these supporting actors while the casting was on?
So, we auditioned more than 3500 actors for the whole show. There are 76 characters in the show, including the primary and secondary ones. The audition was a lot more flexible because it was via Zoom. We auditioned in the south, in Kolkata, Bombay, Delhi and Rajasthan. So Kiran Sharma ji, again I remember she was in Delhi at that time, and I called her in the studio and she agreed. She entered, I saw her and I knew that instant how she had prepared so well for the part. We started the audition and she was unbelievable in her presence in the smallest of moments.
There is an interesting story about Veer Singh's life. Prashant briefed us about the episode where he said that he needed an actor with a good physical movement, because the camera moved from one room to another room in one go. The actor walks behind the camera, changes clothes, and comes immediately after. That made me excited since I got the freedom to cast a theatre actor who could pull that off. Prashant agreed. So if you notice, all the actors in that episode come from theatre background. Rajesh and Kiran both come from NSD, their son and daughter characters come from another group of theatre company. I remember throughout that I knew I had to prioritize the believability in the characters first and foremost. That was the goal from the first day to the last. We focused on each character- even if they had one scene. The process was the same for everyone, and we gave them the fair information. So I think that is the reason each of their performances ring so true.
We generally get less time in the casting process. It is mostly three months or even less. Here there was something else that was something else, I keep telling Prashant that maybe the universe was kind that we had an year to work on Trial By Fire, because of the lockdown. We were very sure that we should do this correctly as a team and hopefully it has paid off.