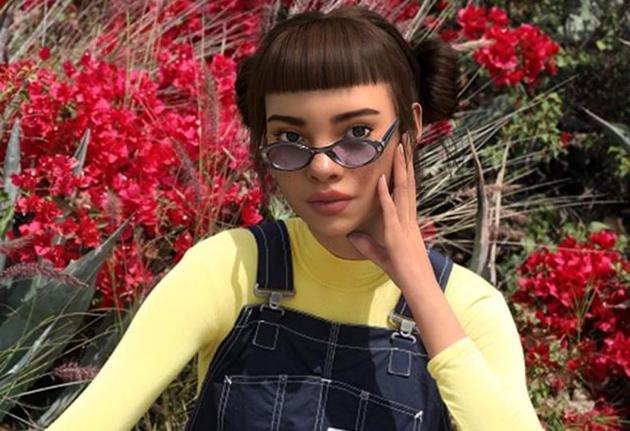 Fashion influencers who don't really 'exist': Is virtual the new real?
From Lil Miquela to Shudu — the future of fashion is virtual, if one goes by computer generated fashion influencers, who are making it big online. Here's a peek into their world.
UPDATED ON APR 05, 2018 01:37 PM IST
As fashion industry around the globe tries to embrace diversity — to do with colour, size and even thoughts — there is a rise in fashion influencers who are changing the meaning of 'keeping it real'. Meet Shudu, the beautiful 'supermodel' who enjoys a following of over 90,000 fans on Instagram. She'll remind you of Alek Wek — the British-Sudanese model who changed the fashion game (in the 90s) because of her atypical look for the time, especially her flawless ebony skin. But hey, it's 2018! So what's so unusual about a black model making it big?
The fact that she doesn't actually exist. Shudu is a creation of a London-based photographer Cameron-James Wilson, who created the model with sheer use of his creativity, and of course, CGI (computer-generated imagery). Like any other fashion influencer/blogger, Shudu has also done some brand collabs, modelled in (virtual renditions) of branded clothes and even showed off her love for Rihanna's beauty line. The reaction? Well, her followers seem divided. While most seem to be in awe of Wilson's art, there are those who think differently. For instance, an Insta user, Lizzie (umukobwawamajyepfo250), comments: "I understand that people are trying to experiment with technology but if it's about meeting the request for dark skin models there are plenty out there," she writes. And expectedly, the creator has received criticism for trying to put black models out of business.
But, Shudu is not the only one. There is Lil Miquela, who is actually in the big league, with 875K followers and the coveted 'verified symbol' to cement her credentials. Miquela is a big-ticket industry player already — be it turning muse for iconic makeup artist Pat McGrath, giving interviews to magazines or raising funds for social causes, she does it all. But, can these models ever replace the real deal?
"I've been following Miquela for so long now. It's visual artistry at its best, such a great way of creative storytelling... adds a fantasy and mystery angle to the whole aspect," says designer Anand Bhushan. "The trend is pretty cool and I love the realism that the makers have achieved with these 'girls' — it's pretty amazing. It's a little 'far out' yes, but we are heading to a world that will eventually be run by robots! I guess this is just the start," says designer Nida Mahmood. But does she think this will affect the business of real models? "It's unlikely. Humans are far more evolved than anything digital!"
Close