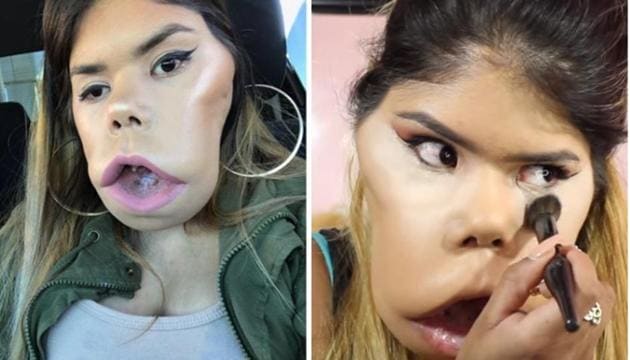 This beauty vlogger with facial tumour is a YouTube star with millions of subscribers
Beauty blogger Marimar Quiroa is here to shatter the preconceived notions about beauty and give people lesson on "self-love".
UPDATED ON APR 20, 2018 05:34 PM IST
Marimar Quiroa, the 23-year-old beauty blogger from California, is taking the internet by storm with her tutorial videos.
Born with cystic hygroma - a rare congenital condition where fluid-filled sacs grow around face or neck, Quiroa is here to shatter the preconceived notions about beauty and give people lesson on "self-love".
Her facial tumour affects her ability to speak and eat, but she has never been bogged down by it.
She runs "MakeupArtistGorda66", a YouTube channel, to inspire and support people who are disabled, including those with hearing difficulties.
"To me, beauty means to accept yourself for who you are and to ignore what other people tell you. You show your beauty how it is, it doesn't matter if you have a different looking face, accept yourself how you are," she says in a video by Barcroft TV.
"When I was younger I would talk to myself in the mirror. I would tell myself I was beautiful. I would encourage myself and list all the things that were good about me and it built my confidence through the years," Quiroa, who communicates using sign language in her videos, says.
Her confidence has won her fans from across the world and more than three million people subscribe to her channel on YouTube and she has 96,000 followers on Instagram.
"YOU LOOK SO BEAUTYFULL <3 (sic)," wrote one social media user.
"I love what you stand for. Beauty is having the courage & confidence to be yourself. It's carrying yourself with grace & love when confronted with adversity," wrote another.
Quiroa is also subjected to mean comments over her looks both on social media and her daily life.
"People tell me I look like a monkey ... that my mouth is wrong. I see them staring. I either tell them to stop or just ignore them, but if people are staring at me, I stare right back. I refuse to look away until they stop staring," she says.
There are other like Quiroa who have taken the world of beauty vlogging by the storm.
Lizzie Velasquez was born with Marfohoid-Progeroid-Lipodystrophy syndrome, a rare congenital disease that prevents her from gaining weight. She was even titled the world's skinniest woman in 2016.
With more than eight million subscribers, the motivational speaker has achieved her dreams.
Kaitlyn Dobrow from Southern California is another such example. The 23-year-old lost four of her limbs to bacterial meningitis and had to re-learn how to apply make-up with prosthetics.
She has more than two million subscribers on her YouTube channel.
Twenty-seven-year-old Jordan Bone was left paralysed from the neck down after a horrific car crash when she was 15.
She shares beauty and fashion tips in her videos as well as advice on positivity and spirituality with her more than two million YouTube subscribers and 130,000 followers on Instagram.
Close