FIFA World Cup 2018 full score: Argentina beat Nigeria, reach Round of 16
A late goal by Marcos Rojo gave Argentina a dramatic 2-1 victory over Nigeria in Group D on Tuesday. Follow full score of Nigeria vs Argentina, FIFA World Cup 2018 here.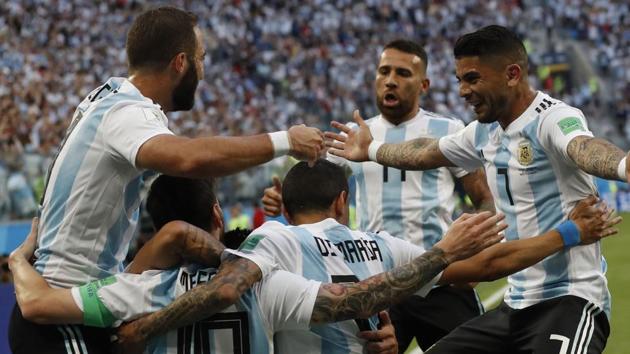 Updated on Jun 27, 2018 01:38 AM IST
Marcos Rojo was Argentina's unlikely hero as his stunning late winner secured a 2-1 win over Nigeria that keeps Lionel Messi's side in the FIFA World Cup 2018. Lionel Messi scored his first goal of the FIFA World Cup 2018 to give Argentina a deserved 1-0 half-time lead. However, when Javier Mascherano dragged down Leon Balogun in the box shortly after the restart, Victor Moses stepped up to roll Nigeria level and within touching distance of progressing. But, Rojo scored late in the game to set up a Round of 16 clash against France. Follow full score of Nigeria vs Argentina, FIFA World Cup 2018 here.
01:30 hrs IST: Argentina face France in the last 16 after finishing second in the group, while Croatia take on Group C runners-up Denmark. Nigeria and Iceland are out after finishing third and fourth, respectively.
01:24 hrs IST: Lionel Messi, Marcos Rojo guide Argentina to a brilliant 2-1 win over Nigeria. They have qualified for the knock-out stages!
01:18 hrs IST: Ivan Perisic has scored for Croatia against Iceland! This is great news for Argentina!
01:16 hrs IST: Marcos Rojo scores! Argentina have taken the lead against Nigeria!
01:12 hrs IST: It is all happening here! A save from Armani and now Nigeria have a dangerous free-kick! It was really close but the shot missed the net by a few inches!
01:09 hrs IST: 10 minutes to go. Can Argentina produce a moment of magic against Nigeria? A chance for Higuain but the shot is off-target!
01:04 hrs IST: Another penalty shout for Nigeria! But the referee uses VAR and the decision goes against the Super Eagles. What drama!
00:59 hrs IST: A short pass, a brilliant dummy but Wilfred Ndidi's shot was just off target! Argentina continue to live dangerously! Argentina 1-1 Nigeria.
00:52 hrs IST: The tempo has gone down significantly after Nigeria's equaliser and they will not mind this style of play. The African side is looking to hog possession and Argentina are finding it difficult to attack.
00:48 hrs IST: Substitution for Argentina - Pavon comes in for Enzo Perez. An attacking change from Jorge Sampaoli.
00:44 hrs IST: A horror tackle by Mascherano and this is not something that is expected off just a senior player. As the things stand, Nigeria are going to the next round!
00:40 hrs IST: A blatant foul from Javier Mascherano and Victor Moses scores from the spot. It's 1-1 and Nigeria are in the driver's seat.
00:37 hrs IST: Corner for Nigeria early in the second half! And it is a penalty for Nigeria!
00:33 hrs IST: Time for the second half. Will Lionel Messi & Co double their lead or Nigeria will fight back?
00:26 hrs IST: Lionel Messi has now scored six World Cup goals, three of which have come in matches with Nigeria, against whom he last struck in the last tournament.
00:18 hrs IST: End of the first half! Lionel Messi scored the only goal as Argentina lead 1-0 against Nigeria in Group D.
00:14 hrs IST: 2 minutes of added time. Can Nigeria find the equaliser?
00:10 hrs IST: 40 minutes gone. It has been mainly Argentina's game and they need to keep playing at this tempo to keep Nigeria in check.
00:04 hrs IST: Hits the post! Another attempt from Lionel Messi but his free-kick hits the bar and is cleared by the Nigerian defenders.
00:03 hrs IST: Yellow card to Neon Balogun. A rash tackle on Angel Di Maria and it is the first booking of the match.
00:01 hrs IST: The final ball seems to elude Argentina right now. They are building the attacks well but the strikers are not getting enough service.
23:57 hrs IST: What a chance for Higuain! Lionel Messi provided a brilliant through pass to the striker, but the Nigerian goalkeeper was able to block the attempt. Argentina lead 1-0.
23:53 hrs IST: Lionel Messi joins Diego Maradona and Gabriel Batistuta to score in three different FIFA World Cups.
23:51 hrs IST: In the other match, Iceland and Croatia are tied at 0-0 and if this situation continues, Argentina will qualify for the next stage of the tournament.
23:48 hrs IST: Incidentally, it was also the 100th goal of the FIFA World Cup 2018.
23:47 hrs IST: Ever Banega with a spectacular through pass and Messi had a lot of time to make up his mind and he guided the ball into the back of the net. Nigeria 0-1 Argentina.
23:45 hrs IST: What a finish! A brilliant right foot finish by Lionel Messi and Argentina have taken the lead!
23:44 hrs IST: Iheanacho had an opening but Javier Mascherano pulled off a brilliant tackle to prevent the move.
23:42 hrs IST: A thrilling start to the encounter as both Argentina and Nigeria are looking to open the scoring early.
23:39 hrs IST: Ahmed Musa gets the first shot of the goal but it sailed over the post. Argentina 0-0 Nigeria
23:37 hrs IST: Lionel Messi tries to create a move but was tackled by two Nigerian defenders. He is being marked by three defenders and this will be a tough game for the Argentine talisman.
23:34 hrs IST: The match will clearly be a midfield battle and already, both the teams are trying to control possession. Nigeria are holding a disciplined line and choking the attackers for space.
23:30 hrs IST: The match is officially underway!
23:28 hrs IST: Argentina have rung the changes with their World Cup place on the line as Gonzalo Higuain replaces Sergio Aguero in attack to face Nigeria in St Petersburg.
23:24 hrs IST: The average age of Argentina's starting XI against Nigeria is 30 years and 189 days; their oldest for a World Cup game in competition history.
23:21 hrs IST: Now a look at the Argentina XI - Armani, Mercado, Tagliafico, Rojo, Otamendi, Mascherano, Perez, Banega, Di Maria, Messi, Higuain
23:17 hrs IST: A look at the starting XI for Nigeria - Uzoho; Idowu, Ekong, Balogun; Moses, Ndidi, Mikel, Etebo, Omeruo; Iheanacho, Musa.
23:16 hrs IST: Hello and welcome to the crucial match between Argentina and Nigeria!
A win against Argentina will guarantee Nigeria a place in the second round. A draw may also be enough even if Iceland beat already-qualified Croatia, depending on goal difference.
For Argentina, they must beat Nigeria and also hope Iceland do not win against Croatia, as that could send them home again depending on goal difference.
Close Story
Personalise your news feed. Follow trending topics