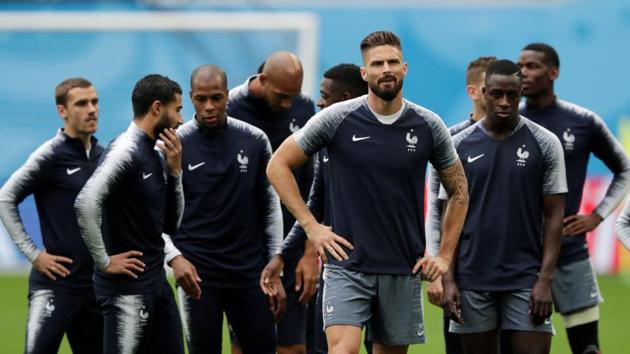 FIFA World Cup 2018: Belgium's Roberto Martinez best coach but France favourites
While Belgium coach Roberto Martinez has impressed with his tactics, France, who are yet to hit top gear, are still favourites to win their second FIFA World Cup, according to Bhaichung Bhutia.
Hindustan Times | By Bhaichung Bhutia
UPDATED ON JUL 10, 2018 12:34 PM IST
Having seamlessly changed formation at short notice, it will have to be seen whether Belgium stick to a back four against France in the first semi-final. This will be among the many things to look forward to in this battle of all battles, a mouth-watering clash for neutrals. (FIFA WORLD CUP 2018 FULL COVERAGE)
Roberto Martinez has been my coach of the tournament and it will be interesting to see whether he sticks to what worked brilliantly against Brazil or reverts to what worked brilliantly right up to the quarter-final.
ALSO READ: France-Belgium gear up for a mega midfield battle in semi-finals
Given that Kylian Mbappe can fly, I think Belgium will continue with four defenders instead of three centre-backs. What I am not too sure about is whether both Marouane Fellaini and Nacer Chadli will start Tuesday's semi-final. That's because their size, which bothered Brazil and maybe even caught them by surprise, won't intimidate France. But here's the thing: against Brazil, Martinez knew he would have to defend. That's what playing five-time champions, coached by someone of Tite's ability, do to opponents. Against France though, it could be different.
So, will Belgium fly off the blocks or will they again depend on their ability to hit on the counter? It is penetration and not possession that matters in football now as has been shown by Spain and Germany's ouster. Another reason to look forward to this game.
ALSO READ: Goalless, but Olivier Giroud important cog in French wheel
France are unlikely to change much because they have been successful without needing to. They haven't hit top gear yet but beat Argentina and took Uruguay in their stride. They have been my favourite team to win the World Cup, and so far I have seen nothing that could change my mind.
As their captain Hugo Lloris has mentioned, the key to France's progress could be in how Paul Pogba grows into the tournament's final week. Like Kevin de Bruyne, Pogba's influence is growing and whether France make the final could depend on the impact he has.
ALSO READ: N'Golo Kante, like he shackled Lionel Messi, will tie down Belgium: Didier Deschamps
Croatia will go into their semi-final after two successive rounds that went into the tie-breaker and that might put them at a slight disadvantage. I say slight because modern recovery techniques and the depth in teams' medical staff can get players fresh a lot faster than they would earlier. Croatia haven't played to potential yet and Mario Mandzukic hasn't fired. If he is 100% fit, Mandzukic could be another late bloomer like De Bruyne and Pogba.
England haven't really been tested; they lost the only time they were a goal down and it will have to be seen whether the young players have the mental steel to deal with the pressure of a semi-final. I won't be surprised if Croatia win this, provided, of course, they have no major injury issues.
Former Indian football captain Bhaichung Bhutia is writing exclusively for Hindustan Times.
Close