FIFA World Cup 2018: VAR controversy mars Brazil's win over Costa Rica
Brazil beat Costa Rica 2-0 in their Group E encounter to put one foot into the knockout round of the FIFA World Cup 2018, but there was a controversial call made late in the game when Neymar was denied a penalty due to Video Assistant Referee (VAR).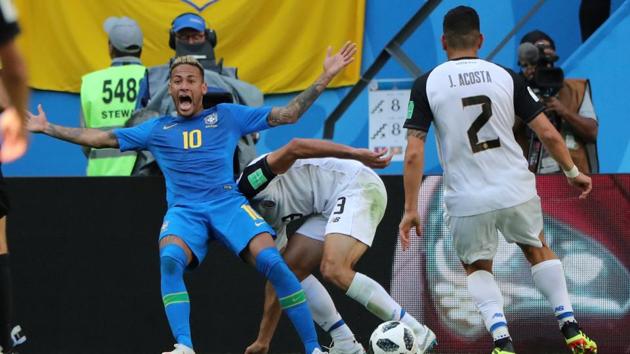 Updated on Jun 22, 2018 08:16 PM IST
Hindustan Times, New Delhi |
Shayne Dias
Brazil's second Group game of the FIFA World Cup 2018 looked headed for a goalless draw as a stubborn Costa Rica defence and some wayward finishing left the Selacao frustrated. (BRA v CRC highlights)
Things seemed to look up in the 79th minute of the game when Neymar was brought down in the penalty area and the referee had no hesitation in pointing towards the spot.
He did, however, decide to use the Video Assistant Referee (VAR) to double check his decision. It was at this point when things got interesting.
The video replays showed that while there was contact made by the defender to pull Neymar down, it was minimal and the referee came to the conclusion that the forward made the most of the challenge.
READ | How Lionel Messi's Argentina can qualify for FIFA World Cup 2018 knock-out round
The referee then overturned his decision, much to the angst of Brazil fans and players alike. The call to reverse the decision can be debated but there are two major issues that will likely be a source of contention among fans and experts.
For one, there appears to be a lack of consistency when it comes to referees deciding what constitutes a foul and on which part of the pitch.
Neymar has been known to go down easily in the past but there was definite contact made by the defender and had this foul been committed anywhere outside the penalty area, he would have been awarded a free-kick.
The logical call, therefore, would be to either not give free-kicks and penalties for tackles that see minimum contact or to award a foul whenever contact is made, regardless of the severity of the challenge.
READ | FIFA World Cup 2018: Lionel Messi goes missing on Argentina's biggest night
It's also worth noting that the referee did not book Neymar for simulation, despite the fact that this is usually the norm in such a situation.
Since the rules of the game are largely open to interpretation, the referee likely concluded that Neymar had not dived but rather simply did not make enough effort to stay on his feet after a weak challenge and therefore was not booked.
However, that would imply that he believed there was contact made by the defender, which once again brings up the issue of consistency in refereeing calls; after all, fouls are almost always awarded if there is any form of contact made.
But for now at least, the teething issues of using VAR will take a back-seat for Brazil as they had reason to celebrate by the end of the game.
READ | Diego Simeone says Argentina look lost, questions Messi in leaked audio
Late goals from Philippe Coutinho and Neymar saw them register a 2-0 win that knocked Costa Rica out of contention for a place in the next round.
Close Story
Personalise your news feed. Follow trending topics