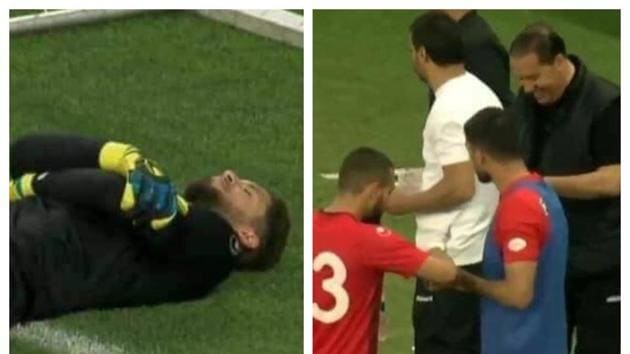 How Tunisian goalkeeper faked 'injury' to help teammates break Ramzan fast
Tunisia goalkeeper Mouez Hassen feigned an injury during a match to help his teammates break their Ramzan fast.
UPDATED ON JUN 05, 2018 03:49 PM IST
It is not uncommon for football players to feign an injury during a match but this Tunisian goalkeeper had a special reason for doing it.
Mouez Hassen was spotted faking an injury at sunset in a warm-up match against Portugal and Turkey to help his teammates break their fast during the holy month of Ramzan, The BBC reported.
The footage of that moment, which has now gone viral, shows Hassen lying on the ground receiving medical treatment while his teammates rushing to the sidelines to drink water and eat dates.
Football pundits were quick to point out that Hassen's antics were to allow his teammates the time to break their fast.
"It's all right now, we know you were pretending," footballer Chaker Alhadhur tweeted.
"I was hurt, bro," Hassen jokingly replied along with laughing emojis.
Several media reports said the players have an "understanding" with the goalkeeper about the fake injury to help break the fast during Ramzan.
It is the ninth month of the Islamic calendar when Muslims abstain from food and water from sunrise to sunset. Iftar is the evening meal they have at sunset to break the day's fasting or Roza.
Tunisia will return to World Cup 2018 after a 12 years' absence to face England on June 18.
Close