NEROCA FC coach Gift Raikhan says he will decide future after consulting wife
Mar 08, 2018 08:19 PM IST
NEROCA FC coach Gift Raikhan said his wife Laima is his biggest supporter and he will have to talk to her before deciding on his future.
In his first season, coach Gift Raikhan showed he could more than hold his own in the I-League by getting NEROCA FC to finish runners-up in 2017-18. After it ended, Raikhan scored a goal for gender equality which, coincidentally, came on International Women's Day.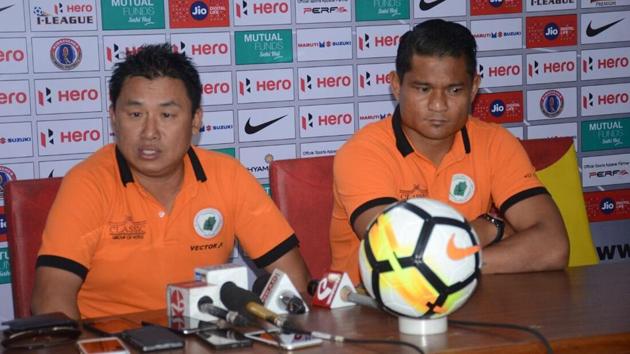 Asked about his future, Raikhan paused before telling the media at the mandatory post-match conference: "Let's see. I will first have to ask my wife. Such a decision can't be taken by me alone."
Raikhan, 36, married Laima in 2006. "Since then, she has been my biggest supporter, you can say," he said afterwards. Laima is a homemaker and an equal partner in decisions about his fledgling coaching career, he said. They have three boys.
"In football, you don't know what the future holds. As a young coach, I would be keen on getting more exposure and anyway, my job isn't over for the season because I have to get the team ready for the Super Cup," said Raikhan over the phone after the media conference.
The I-League title may have eluded Raikhan but he said he was happy with what NEROCA FC have achieved. "When the season started, I had thought finishing between third and fifth would be more than enough for a team with modest means like us. I am happy with the draw today, happy with how we contained East Bengal but even if we had lost, it wouldn't have mattered," he said.
Raikhan has been with NEROCA FC, the first club from Manipur in the I-League's top tier, for the past three seasons and helped them come through the second division in 2016-17. A former left-back, he played for Churchill Brothers, Hindustan Aeronautics Limited and Indian Bank before switching to coaching at Pune FC. Raikhan began at their academy before graduating to assistant-coach at the now-disbanded club.
"It has been an incredible journey and I dedicate our finishing second to the lovely people of Manipur, my club and our players…Some of them will go on to play for other clubs but what they won't forget is the effort they put in this season," he said.
To that goalkeeper Lalit Thapa, who like Raikhan had played for Churchill Brothers, added that NEROCA FC have shown the way to other clubs in football-obsessed North-East. "We were inspired by what Shillong Lajong and then Aizawl FC did. Now, I hope more clubs from Manipur will follow us," said Thapa, adjudged Man of the Match after Thursday's 1-1 draw against East Bengal here.
If there was any regret for Thapa, it was that Churchill Brothers had been relegated. "That team was like a family. It won't be good for Indian football if there is no team from Goa in the I-League next season," he said.
Exciting news! Mint is now on WhatsApp Channels
Subscribe today by clicking the link and stay updated with the latest financial insights!
Click here!