Women staffers at Kherki Daula toll plaza shaken by incidents of abuse
A woman staffer complained to the police that men often tease them and make innuendoes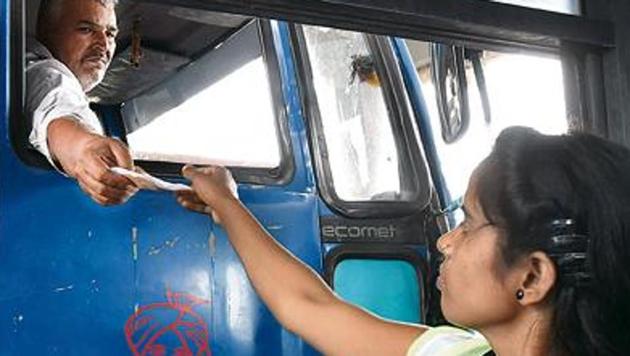 Updated on Dec 08, 2017 04:22 PM IST
Two back-to-back incidents of abuse and molestation of women toll attendants at the Kherki Daula toll plaza have left the 35-member strong women workforce quite shaken.
The team of 35 started managing the toll booths from April 25 this year.
The toll management claimed that incidents of violence had reduced since the recruitment of women but off late, incidents of molestation and abuse have begun to rise.
A woman toll staffer was abused and molested by a commuter on Thursday morning and a similar incident was reported on November 21 when a few men in an SUV molested a staffer after she asked them to pay the toll.
One of the woman staffers who complained to the police said that men frequently tease them and make innuendoes and double entendres but they have learned to ignore these things as "part of the job".
"I am shaken and scared to work and so are the other women. The man threatened to kill me. He also used slurs and insults that would outrage the modesty of any person. I want the police to take strict action against such people," the woman staff member complained to the police on Thursday.
The women staffers also said the government and the operator should resolve the issue of toll payment by residents of 31 villages, who often enter into arguments with toll agents.
These issues also lead to tiffs and assaults by villagers, they said.
Toll operator Skylark in fact claimed that it took a lot of convincing to ensure that the women did not leave their job.
"Despite posting private security men at the toll plaza, the number of such incidents is rising as violators are mostly influential and well-connected. There is a need for strict policing against such persons. Only then will things improve," said Navneet Pratap Singh, CEO, Skylark.
He, however, admitted that there has been a significant reduction in incidents of violence at the toll plaza after the women staffers were hired to manage toll collection.
Past incidents
November 21, 2017: A woman toll attendant was abused for not allowing a SUV to pass without paying the toll
October 3, 2017: A man in a black SUV opens fire at toll attendants for making him wait a few extra minutes. A case was registered by police.
April 02, 2016: A toll collector is attacked by about 50 residents from nearby Hasanpur village after he asked a villager to pay the toll. The man claimed he was from the village and was exempted from toll. An FIR was registered against unidentified villagers.
February 25, 2015: A fight broke out at the plaza after toll attendants accused a Haryana Roadways driver of damaging the toll barricades and thrashing one of them. An FIR was registered.
April 23, 2015: Two incidents of scuffle reported in a single day. In the morning, residents from Shikohpur village came to blows with a toll attendant. A similar incident takes place later in the evening.
Close Story