Traffic myths ruining Gurugram's mobility: Roads meant for cars, need more space, remove intersections
Jun 06, 2018 11:19 AM IST
The most popular mode of travel in the Gurugram is walking. So, why is the city catering only to cars?
Gurugram, with a population of 8.7 lakh as per the 2011 census, accommodates more than 250 of the Fortune 500 companies and is ranked as the most prosperous city in India. It is also a prime driver for Haryana's economy with an estimated two-thirds investment in the state happening in Gurgaon alone.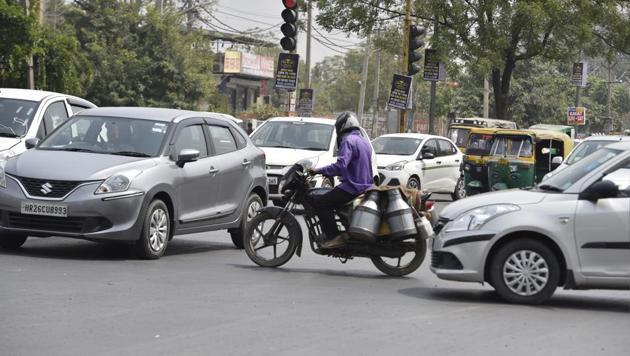 On the one side it is known as the 'Millennium city' but on the other hand, it is also branded as 'Gurujam' in the news because of its notorious traffic.
Stay tuned with breaking news on HT Channel on Facebook.
Join Now
There are numerous reasons for the chaotic mobility in Gurugram, but the three major traffic myths are probably the root cause of it, and they are:
1. Everyone in the city moves by car
A study by the Gurugram Metropolitan Development Authority (GMDA) in 2018 on its city bus services points out that within in Municipal Corporation Area, the largest mode of travel is walking (27%), followed by motorised two-wheelers (26 ), car users (10%) and cyclists (4%). The remaining 33%comprises people using both formal and informal modes of public transport systems such as autos, taxi, buses, metro and trains.
The results from this study are not surprising at all because even the decade-old, Integrated Mobility Plan for Gurugram also estimated that one-third population was walking and cycling, one third using formal and informal public transport and the rest third was using cars and two-wheelers.
Therefore, it's a myth that everyone in Gurugram moves by car and the 2008 and 2018 data points that only 10 percent of the people do that.
2. More road space means less jams
The man who created the famous Say's law, Jean -Baptiste Say, states "supply creates its own demand" and what it explains can be applicable for transport planning as well, i.e. if more roads are built, there will be more motor vehicles. And while the law may have been formulated more than a century and half back, yet transport planners / engineers in Gurugram fail to understand this fundamental concept and the city is obsessed with building more flyovers, underpasses and widening roads, as a result of which there is increasing traffic.
Gurugram's Golf Course Road is a classic example for such a mishap of how not to design an urban road. The signal-free road that was meant to provide signal-free connection to people living around the golf course to NH 8 is now frequently in news for traffic jams. Therefore, if the 16 lanes of road could not remove jam on the Golf Course Road surely 18 lanes won't do it either.
3. Removing intersections eases traffic flow
Of late there is a trend in the city to replace intersections with "U turns", which is neither a clever form of planning nor traffic engineering. From the planning perspective, traffic signals are an important part of city's transport system as it helps various modes of transport, including pedestrians and cyclists, in crossing the road. They provide access to people on either side of roads that have continuous development such as Sohna Road, Old Gurgaon Road or any other road inside the city. Removal of these intersections forces cyclists and pedestrians to violate traffic rules as detours are often lengthy and impractical leading to accidents and often deaths. From an engineering perspective, it is well documented that an intersection with traffic signal has much more throughput than if the same is replaced by 'U turns'. A simple stroll in the morning or evening hours on Sohna Road, HUDA City Metro Station, etc, will reveal the true picture of this experimentation.
It's time that city moves towards prioritising planning for walking, cycling and public transport and a starting point of this is planning multi-modal streets, rather than streets only for cars. Else, it will be locked in, with no escape.
(Amit Bhatt is director- integrated transport, WRI India)