Swasthya Slate: Revolutionising diagnostics the tablet way
Updated on Jul 25, 2015 05:50 PM IST
The Swasthya Slate, an android tablet that can conduct 33 diagnostic tests within a few hours, is a handy tool for health workers in rural areas who cater to people who are too isolated, ill or poor to reach a primary health centre.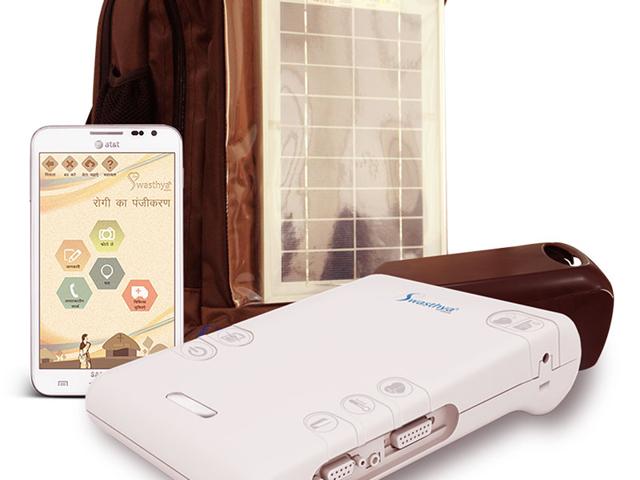 Women in elaborate jewellery and colourful pherans carrying trendy little backpacks spotted on the roads less travelled in Jammu & Kashmir's hilly districts may be mistaken for tourists experimenting with traditional garb. They're anything but that.
They are the state government's frontline public health workers -- auxiliary nurse midwives (ANMs) and accredited social health activists (ASHAs) – on a seemingly impossible mission of taking healthcare to the doorstep of people who are too isolated, ill or poor to reach a primary health centre.
Instead of a stethoscope and other cumbersome paraphernalia doctors usually carry, they carry an android tablet called Swasthya Slate that makes it possible for them to conduct 33 diagnostic tests within a few hours.
The tablet is loaded with decision-support algorithms that guide health workers to give medical recommendations and make referrals, when needed. It's so easy to use that the time spent recording data and completing medical forms has shrunk from half a day to a couple of hours.

Simply incredible
Designed for use by low-skilled health workers without specialised training, Swasthya Slate integrates simple data collection with high-end back-end tools to support decision-making. The result of the tests – that include blood pressure, blood profile, urine tests, heart rate, ECG, among others -- are digitised using a customised reader and uploaded on cloud, from where they can be accessed online and offline by public health officials. The reports can also be printed out using portable-thermal or android-compatible printers.
The tablet costs Rs 35,000 fully loaded. If these tools and software are brought individually, the price would vary between Rs 4 lakh and Rs 5 lakh, with the cost of the tablet alone being Rs 30,000.
The entire contraption comes with a backpack that altogether weighs 2.3 kg and doubles as a solar panel, which allows users to recharge the tablet in areas with unreliable or no power supply. The ergonomic designed makes the effective weight just 200 gm, unlike the backbreaking equipment conventionally carried by health workers.

Tablet revolution
This low-cost tablet has already become a lifeline for millions living in underserved areas in India and ten other countries, including Timor-Leste, Nigeria, Peru, Norway and Canada, among others. In developed countries, where human resource is at a premium, the tablet helps bring down cost of diagnostics.
Since the first prototype with four tests was rolled out in July 2011 in Hyderabad in Andhra Pradesh, 500,000 patients have been screened and 700,000 tests have been done across 80 locations. In Jammu & Kashmir, it serves a population of 2.1 million people in the six districts of Leh, Doda, Rajouri, Punj, Kishtwar and Ramban.
The Delhi government is the latest to make Swasthya Slate an integral tool in its newly-launched mohalla clinics, 1,000 of which will be set up in the state by the end of next year.
The idea is to deliver fast and accurate care to people's homes, clinics and just about anywhere, says its creator Kanav Kahol, 36, who trained in biomedical engineering and informatics in the US before coming back home to head the Affordable Health Technologies Division at Public Health Foundation of India. He focuses on integrating information, mobile and sensor technologies to increase access, efficiency and accuracy.

Win-win data
The results speak for themselves. In Jammu & Kashmir, diagnostic tests have increased by 145% within seven months and the number of pregnant women visiting antenatal clinics has gone up by 67%. What's more, the clutch of 13 tests recommended for pregnant women now take only 40 minutes, compared to 14 days taken by conventional labs. Now women walk away with their test results in half a day, with the combined cost of the 13 tests being less than Rs 60.
The accuracy of the results is within 99% of tests done by high-end labs at a fraction of the cost. The test for HIV, for example, costs Rs 12 using the tablet's software, compared to Rs 400 to Rs 500 charged by private labs.
It's all about using Indian jugaad (innovation), says Kahol, whose research included travelling extensively to villages using state transport buses to talk to people to understand the gaps in healthcare delivery. "India has the tools, we just need to integrate them to strengthen innovation and bring down costs," he says.
And can cut costs at every level, he learnt during his intrepid travelling. "For example, instead of hiring private suppliers, we've tied with state roadways bus conductors to deliver kits to remote areas," he says. "Going hyper-local is the way head, we have examples all around us in India."

Also read:Suffering from low blood pressure? Here's how it can harm you
Close Story
Personalise your news feed. Follow trending topics