Lack of calcium and a 'woman's disease': 6 myths about osteoporosis
Asian News International |
, New Delhi
Asian News International
Oct 20, 2017 11:56 AM IST
Osteoporosis affects about 80% Indian women and about 1.5 million Indian men.
India is slowly falling prey to another silent disease, akin to hypertension and heart disease, which is detected only when tests indicate a decreased bone density.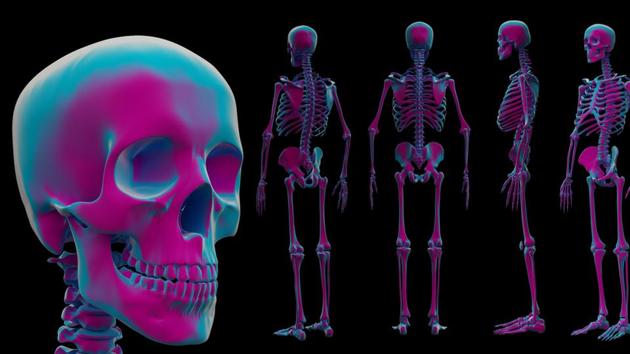 Known as osteoporosis, this disease affects about 80% Indian women and about 1.5 million Indian men. It is also known as the bone-thinning disease. Responsible for over one and a half million fractures each year, osteoporosis makes the bones weak so much that even a simple fall or bump can cause them to break.
Being a silent disease, the symptoms are not very apparent, until the condition reaches an advanced stage leading to a fracture. Osteoclasts and osteoblasts, two special cells in the normal bone-remodeling cycle, work to keep the bones strong and healthy.
While osteoclasts break down old bones, osteoblasts promotes new bone formation. With age, more bone is broken down than what is reformed. This means that the osteoblasts cannot keep up with the breakage, causing the bones to become thin and fragile.
There are many myths and misconceptions surrounding this disease. Dr M Udaya Kumar Maiya, Medical Director, Portea Medicalarticle helps breaking some of them.
Myth 1: Osteoporosis is caused due to lack of calcium
While calcium is essential for bone health, too much of it is also not good for the body. Many other nutrients are also needed to ensure bone health such as vitamin K, magnesium and strontium. As an example, calcium is absorbed better in the presence of vitamin D. Normally, our body absorbs only 10% to 15% of calcium from the diet.
Myth 2: It is a natural side effect of ageing
Yes; but bone loss including osteoporosis can also affect a person in their younger years. Apart from age, gender and genetic susceptibility are also factors leading to this condition. While age and gender cannot be modified, there are other factors one can control such as lifestyle and diet.
Myth 3: Fractures are inevitable with osteoporosis
Studies have shown that about half of those with thinning bones do not suffer a fracture. Alternatively, people with a normal bone density are also prone to fracture. A fracture risk assessment can be done through a bone density test. This will help a person identify what are the risks of having a fracture.
Myth 4: It is a woman's disease
It is not true that men do not have to worry about getting this condition. Women naturally have smaller and thinner bones than men and are at a higher risk of bone problems. The belief that it is a woman's condition also stems from the fact that low estrogen levels cause bone loss. However, men are also prone to this condition, particularly those with low levels of Vitamin D.
Myth 5: Osteoporosis is not linked to other conditions
Increasingly, there has been research to show that osteoporosis has a connection with other health conditions too. A person with improved body strength, metabolic fitness, and muscle strength will have stronger bones. He/she will also, therefore, have regulated blood pressure and good cardiovascular health. It is, therefore, imperative to aim at overall health and lead a balanced lifestyle.
Myth 6: Bone density test is painful
Bone density test is very simple and comfortable. A bone densitometer measures bone density using a small amount of radiation (DeXA scan) or ultrasound (portable units). A person lies on their back with their arms and legs positioned appropriately. The test hardly takes 10 minutes and is not painful.
Get enough calcium as per age through sources such as milk and milk products and green vegetables. Your body will require Vitamin D to absorb the calcium.
This can be adequately obtained from sunlight and other sources like mushrooms. Get good sun exposure for 10 to 15 minutes on the arms and face for at least 2 to 3 times a week.
Quit smoking as this is known to weaken the bones. Avoid excess alcohol intake. Lead an active lifestyle with about 30 minutes of some physical activity every day. This will help in strengthening the muscles and bones.
These lifestyle changes can go a long way in preventing osteoporosis and helping those already diagnosed with the condition.
Follow @htlifeandstyle for more
"Exciting news! Hindustan Times is now on WhatsApp Channels
Subscribe today by clicking the link and stay updated with the latest news!"
Click here!