Before Mission Impossible Fallout, Tom Cruise's insane stunts - ranked
From jumping off the world's highest skyscraper to learning to fly a helicopter, ahead of Mission: Impossible - Fallout, here are the craziest stunts Tom Cruise has ever attempted.
hollywood
Updated: Jul 24, 2018 09:46 IST
Ahead of the release of the sixth Mission: Impossible film, the question on everyone's mind is this: How has Tom Cruise outdone himself this time? Ever since the release of the third Mission Impossible film - or more precisely, the fourth - Cruise has been upping his game as far as the action in the films is concerned, with each new installment featuring stunts so risky that even the crew involved have been left in disbelief.
It all began with the parkour sprint in Mission: Impossible III, on the banks of a Chinese river. But even though that film involved Cruise leaping of a skyscraper, he didn't do it for real - he did, however jump off huge heights in a controlled studio environment. Prior to this, Cruise had even filmed parts of the rock climbing sequence from Mission: Impossible 2.
Teasers for MI - Fallout have already shown Cruise riding a motorcycle on a busy Parisian street, hanging off of a moving helicopter and falling several feet while hanging at a great height, and the piece-de-resistance: learning to fly a helicopter and performing dangerous aerial stunts.
Here's a countdown of Cruise's most insane stunts so far.
Bridge getaway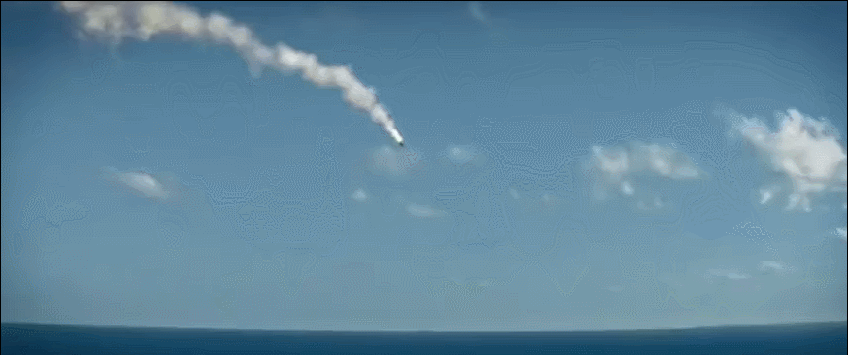 Cruise suffered serious burns in this scene from Mission: Impossible III, in which the villain played by Philip Seymour Hoffman makes a getaway. Cruise insisted that he perform the scene himself, even the shot when a massive truck comes careening in his direction.
Jack Reacher chase

Even those who didn't quite like Cruise's first Jack Reacher movie couldn't deny that it contained a car chase sequence well worth the price of admission. It was bone-crunchingly brutal, filmed in a no-nonsense style with Cruise doing most of the driving himself. Reacher was also Cruise's first film with Christopher McQuarrie as director, a collaboration that would continue with Mission: Impossible - Rogue Nation and Fallout.
Dangling off a plane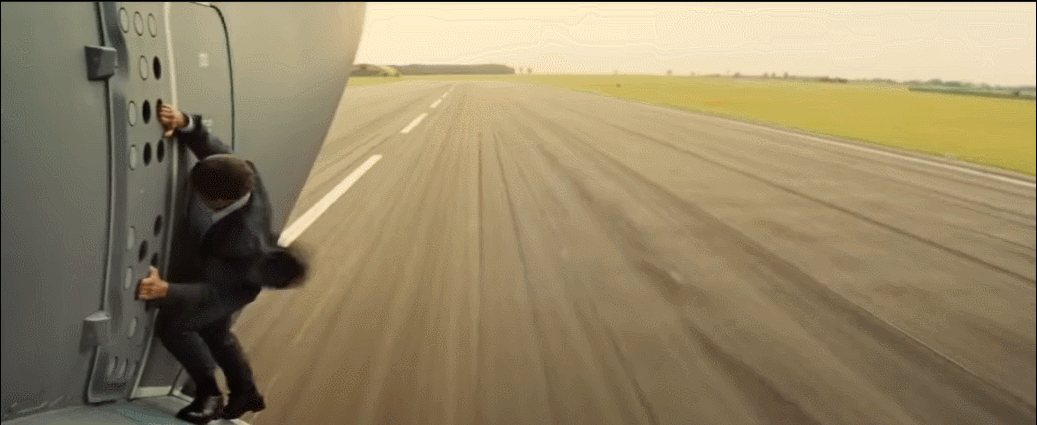 When faced with the problem of coming up with a bigger stunt than the one they did on Ghost Protocol, Cruise and co. came up with a sequence that must've sounded impossible on paper. How does one go about convincing the studio that one of the biggest movie stars on the planet would be hanging on the outside of a plane as it takes off? Ask Tom Cruise, who performed the scene himself, and achieved a sort of realism that no one had even realised they'd wanted to see.
Burj Khalifa leap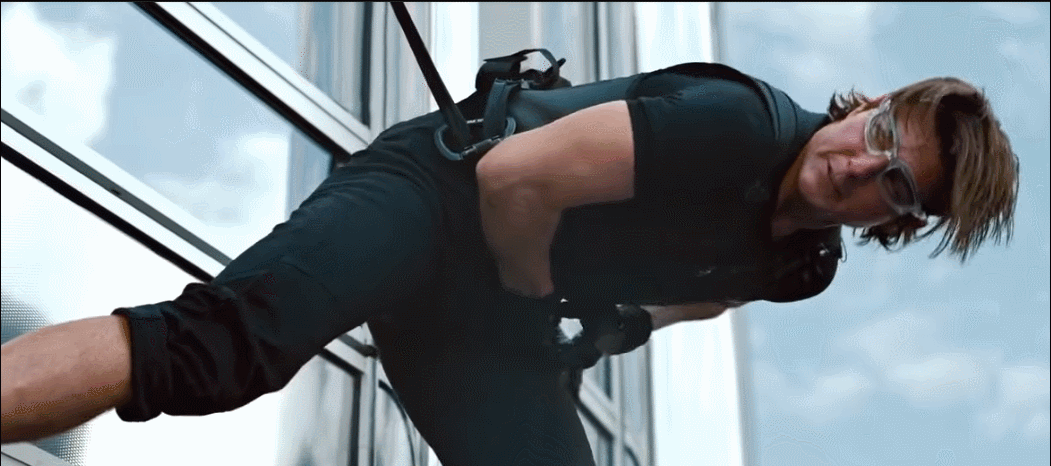 Did Tom Cruise know that by scaling the outside of the world's biggest skyscraper he'd be condemning himself to a career of upping the ante? The Burj Khalifa sequence in Ghost Protocol works for two reasons - one, we'd never seen anything like it before, especially without the use of a stunt double and shot on actual location, thousands of feet up in the air, and two, it was shot in IMAX. It set the bar for large-scale, practical action, and established Cruise as one of the greatest action stars of all time.
Mission: Impossible - Fallout is scheduled for a July 27 release, and has received some of the best reviews of the series.
Follow @htshowbiz for more
First Published: Jul 24, 2018 09:43 IST