Rampage is now Rotten Tomatoes' top rated video game film, here's a comparison
According to review aggregator site Rotten Tomatoes, Dwayne 'The Rock' Johnson's new film, Rampage, is the highest-rated video game movie ever. Here's how it compares to others.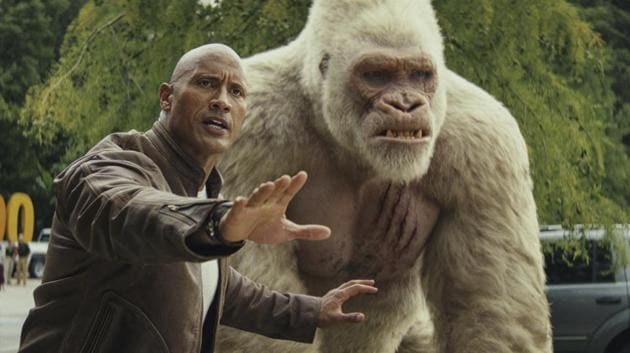 Updated on Apr 15, 2018 02:33 PM IST
Dwayne 'The Rock' Johnson is earning his paycheck. The star, declared to be the highest paid actor in the world by Forbes, and whose late addition has 'saved' several franchises (he joined Journey to the Centre of the Earth, Fast & Furious and GI: Joe and turned their fortunes around), might have broken the video game movie curse with his latest film, Rampage.
Review aggregator site Rotten Tomatoes' had tweeted on Friday that Rampage, as it stood then, was the highest rated video game adaptation on the site. The film's 53% rating has now dropped to a 50%, which is still good enough for it to claim the dubious title.
READ | Rampage movie review: Dwayne Johnson's film has shades of Salman Khan, but it's better
READ | Warcraft review: Unabashedly nerdy, visually stunning, joyous fun
Traditionally, video game movies have always been poorly received by critics, even if they have been moderately successful at the box office. The Resident Evil franchise spawned five sequels, despite being routinely trashed by critics.
More recently, Duncan Jones' Warcraft overcame its 27% score to become the most successful video game adaptation at the box office, beating Prince of Persia's $336 million gross with a final tally of over $400 million. The same cannot be said for Michael Fassbender's Assassin's Creed movie, which scored an 18% on RT, and made $240 million worldwide.
READ | Tomb Raider movie review: Angelina Jolie would adopt Alicia Vikander's Lara Croft in a heartbeat
READ | Assassin's Creed movie review: A disgrace - for Fassbender fans, and the world
Despite these negative reviews, video game movies have always attracted big stars and big budgets. Besides Johnson, Fassbender and Gyllenhaal, Mark Wahlberg starred in a Max Payne movie in 2008. It scored 16% on Rotten Tomatoes. Alicia Vikander's Tomb Raider, however, leaped ahead of Angelina Jolie's original with a 49% score.
Here's a comparison of the top rated video game movies, according to Rotten Tomatoes:
Rampage - 50%
Tomb Raider - 49%
The Angry Birds Movie - 43%
Prince of Persia: The Sands of Time - 36%
Mortal Kombat - 34%
Need for Speed - 22%
Hitman - 15%
Tekken - 0%
Rampage is only just holding out, and with several countries such as France and Japan still to release the film, we can expect this score to fluctuate. And it will only take the slightest change for its title to be taken away.
Follow @htshowbiz for more
Close Story