10 convicted for 21-yr-old Dalit man's murder in Tamil Nadu
The special court of third additional judge T Sampathkumar, which convicted 10 of the total 17 accused, will pronounce its sentence on March 8.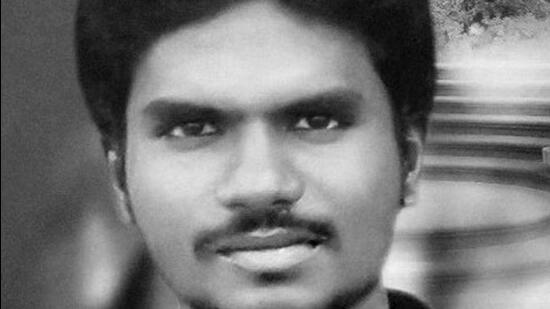 Published on Mar 06, 2022 12:15 AM IST
A Madurai court on Saturday convicted 10 people of killing a 21-year-old Dalit man, whose headless body was found on the railway tracks in Tamil Nadu's Namakkal district in 2015.
During the investigation in the caste-linked murder, police had claimed that the convicts belonging to the Gounder community, a backward yet powerful caste, were enraged by V Gokulraj, a Dalit man, talking to a woman from their community at a temple in Namakkal district.
Also Read | Madhya Pradesh: Dalit children beaten up for touching utensil
A special court of third additional judge T Sampathkumar on Saturday convicted 10 people, including the prime accused S Yuvaraj, then president of Dheeran Chinnamalai Peravai, a caste outfit in Namakkal.
After the verdict, Gokulraj's mother Chitra broke down while talking to reporters. "I struggled so much to raise my son. They tortured him. We die every day thinking of him," she said, adding the convicts should be hanged.
The court will pronounce its sentence on March 8.
Special public prosecutor Bhavani P Mohan's junior S Ganesh Kumar said the judge observed that the prosecution was able to prove all charges against the 10 accused. All 15 accused were slapped with 13 charges. "But there wasn't enough evidence against five of the accused, so the judge acquitted them," said Kumar. "We will know more details on March 8. Today the judge gave the verdict in less than 5 minutes."
Also Read | In MP's Khargone district, Dalit woman stopped from entering temple, priest held
In June 2015, Gokulraj was last seen with a woman from the Gounder community at the Arthanareeshwarar temple in Namakkal district's Tiruchengode. On June 23, he was abducted from the temple by a group of men and the next day his beheaded body was found on the railway tracks. In her statement before the police, the woman recounted that a middle-aged man asked Gokulraj to meet Yuvaraj and also enquired about her details. They snatched her phone even as she tried to tell them that they were just friends.
A post-mortem report confirmed Gokulraj was strangled and stabbed on his neck. A total of 17 accused, including Yuvaraj, were named in the complaint filed by Chitra, the mother of the deceased.
Two accused, Sankar and Kumar , confessed to the crime before a court in Srivaikundam, however, Yuvaraj remained at large for over three months after the crime as the district police could not track him down. Yuvaraj kept moving from Tamil Nadu to Karnataka to other states, and these while, he kept releasing audio clips on WhatsApp, instigating his community.
In a further embarrassment to the police, Yuvaraj appeared on a Tamil news channel, Puthiya Thalaimurai, claiming innocence and blaming the police for targeting him.
In another shocking turn of events, then Deputy Superintendent of Police (DSP) of Namakkal, R Vishnupriya, who was investigating the murder case, was found hanging in her official residence in September 2015. Police found a suicide note in which she hinted at work pressure. It, however, added that her death should not be linked to the sensitive murder case.
The murder case and Vishnupriya's suicide case were shifted to the CB-CID. The DSP's suicide case was later handed over to the Crime Bureau of Investigation (CBI) based on her father's petition. The federal agency closed the case in May 2017, concluding that there was no foul play and that she died by suicide.
Days after appearing on the TV channel, Yuvaraj surrendered before the CB-CID in Namakkal. The Madras high court granted him conditional bail in May 2016. The Tamil Nadu government moved the Supreme Court challenging the bail, citing the accused was threatening witnesses and tampering evidence. Yuvaraj was again arrested in August 2016 after the Supreme Court denied his bail.
Trial in the case began in 2018. The high court in 2019 shifted trial to a special court in Madurai for cases booked under the SC/ST Prevention of Atrocities Act, 1989.
Of the 17 accused in the case, one person died while another is undergoing trial at a Namakkal court. On Saturday, the remaining 15 accused were produced in the court, which convicted 10 accused, identified as Yuvaraj, his brother Thangadurai, Arun, Kumar, Sankar, Arul Vasantham, Selvakumar, Sathishkumar, Raghu alias Sridhar and Ranjith.
It acquitted the remaining five accused — Shankar, Arul Senthil, Selvakumar, Thangadurai and Suresh — citing lack of evidence.
Topics
Close Story
Personalise your news feed. Follow trending topics