In Udta Punjab, 22-yr-old bride calls off wedding after groom fails dope test
Drug addiction has been a major problem in Punjab and has only been getting worse. With the exposé of a nexus between drug mafia, politicians and police, the issue has assumed major proportions.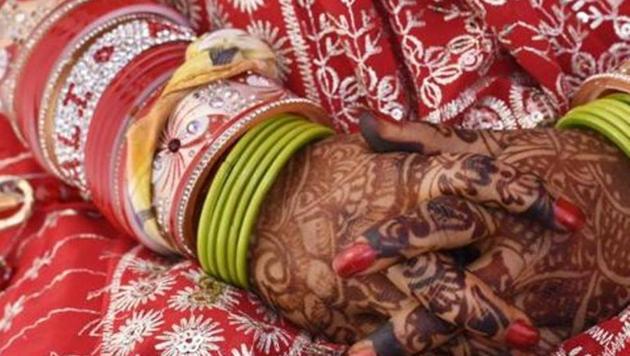 Updated on May 03, 2017 09:11 AM IST
Gurdaspur, Hindustan Times |
HT Correspondent
A 22-year-old woman in Punjab's Dinanagar town called off her wedding after she saw the groom arrive at the gurdwara in an intoxicated state, police said on Tuesday.
Police said Sunita Singh, a resident of Dusshera Ground in Dinanagar, 12 km from Gurdaspur, refused to proceed with the wedding rituals at Gurdwara Maharaja Ranjit Singh on Sunday when she saw Jaspreet Singh faltering while walking after he stepped out of a car with the wedding party. Jaspreet's family belongs to Khanpur near Mukerian.
Sunita, whose father is a truck driver, said she would not marry a drug addict. Shocked parents of the groom tried to convince her that Jaspreet, a truck driver, had injured himself in the foot and couldn't walk straight but Sunita stood firm.
"She was adamant not to marry Jaspreet as she suspected him of being a drug addict," a relative, who did not want to be named, said.
Sunita demanded he undergo a medical check-up at the Singowal Community Health Centre (CHC) but the test could not be conducted due to the lack of equipment. She insisted on a medical test at a private laboratory in Gurdaspur, where Jaspreet tested positive.
Sunita reported the matter at the police station near the gurdwara. Station house officer Baldev Raj said after the incident on Sunday both families accepted Sunita's decision and returned the gold rings that were exchanged.
The father of the bride, Kamal Singh, knew Jaspreet well as they drove on long routes in their trucks and had got his daughter engaged to him recently.
"But now he is proud of his daughter. He believes she has taken the right stand. How can he be happy if she isn't?" the relative said.
Sunita, who is a matriculate, has no regrets.
Romesh Mahajan, project director of the local Red Cross De-addiction Centre, said Sunita will be felicitated for her bold stand that would act as an example for other women to stand up for their dignity.
Addiction has been a major problem in Punjab and has only been getting worse. With the exposé of a nexus between drug mafia, politicians and police, especially some high profile ministers and leaders of the previous regime, the issue assumed major proportions.
The Punjab Opioid Dependence Survey (PODS) carried out by an NGO and experts from AIIMS put the number of drug-dependent persons or addicts at 2.3 lakh, estimating the total users to be 8.6 lakh, last year. The survey also reported high prevalence among youth, with 55% of addicts being from rural areas.
Close Story
Personalise your news feed. Follow trending topics