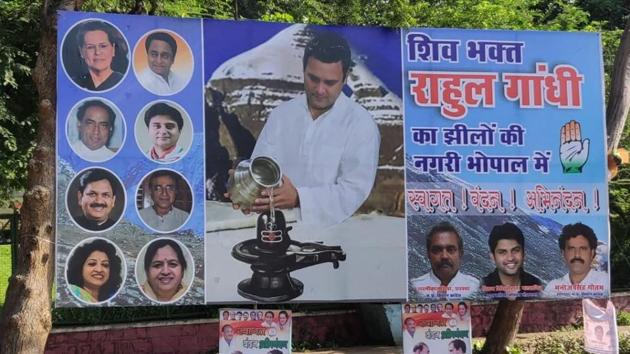 Ahead of Rahul Gandhi roadshow in Bhopal, Congress, BJP spar over 'Shiv devotee' posters
The ruling BJP has attacked Gandhi for his 'soft Hindutva' agenda for the sake of votes after posters appeared describing him as a devotee of Lord Shiva.
Hindustan Times, Bhopal | By
Ranjan
UPDATED ON SEP 17, 2018 01:59 PM IST
Congress president Rahul Gandhi has landed in Madhya Pradesh capital Bhopal, where he will hold a 10-km roadshow today to launch his party's campaign for assembly elections due soon. Ahead of the mega rally, the Congress sparred with the ruling BJP over posters that have been put up greeting Gandhi as a "Shiv bhakt" or devotee of Lord Shiva.
The Congress president is just back from a Kailash Mansarovar Yatra, a pilgrimage to honour Lord Shiva.
The BJP alleged that calling Rahul Gandhi a "Shiv bhakt" is part of a "soft Hindutva agenda" ahead of elections due by November. Madhya Pradesh has been ruled by the BJP for the last 15 years; the Congress lost power in 2003.
"Whenever there are elections in any part of the country Rahul Gandhi starts visiting temples. His first visit to Madhya Pradesh after his journey to Kailash Mansarovar on Monday has a stamp of his soft Hindutva agenda on it but people of Madhya Pradesh are wise enough to understand the design behind his so called pilgrimage to Kailash Mansarovar and his being dubbed as a 'Shiv bhakt'," state BJP spokesperson Rajneesh Agrawal said.
The Congress' Shobha Oza shot back, "For the Gandhi family religion is a personal matter. They don't use it for votes unlike the BJP which has been using the Hindutva card and the name of Lord Ram for decades just for the sake of votes. BJP is frustrated over Rahul ji's visit to Madhya Pradesh, hence its attack on him."
Rahul Gandhi's road show will begin at the Lal Ghati square. he will travel in a bus to Dussehra Maidan, BHEL, via the collectorate, Royal Market, Peer Gate, VIP Road circle, Polytechnic square, Roshanpura, Apex Bank square, Board office square and Kasturba Nagar square. He will frequently stop to be greeted by party workers.
From 4 to 5.30 pm, Gandhi will interact with party office-bearers from across the state at the Dussehra Maidan, BHEL.
"Congress workers and leaders are excited over their national president's visit. About 15000 party office-bearers from across the state will gather to listen to Rahul ji and have interaction with him. His visit is going to energise the party workers and leaders to get rid of the misrule of corrupt BJP government in Madhya Pradesh," Oza said
Close