Soldiers using social media for complaints can be held guilty, warns Army chief
Army chief General Bipin Rawat on Sunday told soldiers not to air their grievances through social media.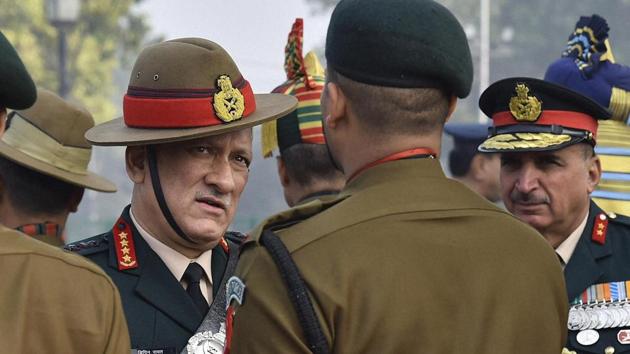 Updated on Jan 15, 2017 07:14 PM IST
Army chief general Bipin Rawat has warned soldiers against using social media to voice their complaints, saying it could invite punishment as it dents the morale of the force.
After reviewing the customary Army Day parade on Sunday, Rawat said the force had a robust mechanism to look into soldiers' problems, advising the troops against going public with their grievances.
"A few colleagues are using social media to share their problems. It affects the morale of the jawans deployed at the borders and thereby the army," said Rawat, who took over as the army chief on December 31. Such actions could invite punishment, he warned.
"Aapne jo karyawahi ki hai aap iske liye apradhjanak bhi paye ja sakte hain aur sazaa ke haqdaar ho sakte hain (Your actions could invite punishment)," said Rawat, referring to recent instances of jawans taking to social media to vent their anger.
Last week, a lance naik posted a video on Facebook, condemning soldiers being employed as "sahayaks" to officers.
The army chief, however, said the "sahayak" or "buddy system" was integral to the force's culture as the officer and his buddy forged a personal relationship, taking care of each other.
He said if jawans were not satisfied with the action taken on their complaints, they could contact him directly.
January 15 is celebrated as the Army Day to commemorate the day KM Cariappa (later field marshal) became the first Indian to lead the army in 1949. He took over from general Sir Francis Butcher.
In his first press conference as army chief on Friday, Rawat asked soldiers to directly communicate their grievances to the force's leadership.
"Let troops have confidence in the senior leadership. Their grievances will be addressed in right earnest."
Rawat has already issued orders for "suggestion and grievance" boxes to be installed at several places in the army headquarters so that complaints can reach him directly. The model will be replicated at formations across the country.
Soldiers should submit their grievances with their names but their identities would not be revealed, the chief said.
Not just the army, the Border Security Force and the Central Reserve Police Force troops, too, have posted videos, complaining about food and work conditions.
Posthumous honour for Siachen hero
Lance naik Hanamanthappa Koppad, who defied death for a week after being buried under 35 feet of snow at the Siachen glacier last February, was on Sunday posthumously awarded the Sena Medal for gallantry.
The army chief presented the award to his wife at the Army Day parade. Koppad died at an army hospital in Delhi, shattering the hopes of the entire country praying for his recovery.
Rawat also awarded citations for outstanding performance to 14 army units, including 4 Para (Special Forces) and 9 Para (Special Forces).
Both special forces units were involved in September's surgical strikes against militant launch pads in Pakistan-occupied Kashmir.
Close Story