PM Modi flew non-official trips to rallies in IAF planes at rates fixed in 1999
Updated on Jul 26, 2017 10:14 PM IST
According to RTI reply, Prime Minister's Office paid IAF Rs 89 lakh for 128 trips, which private chartered flight operators say would have cost much more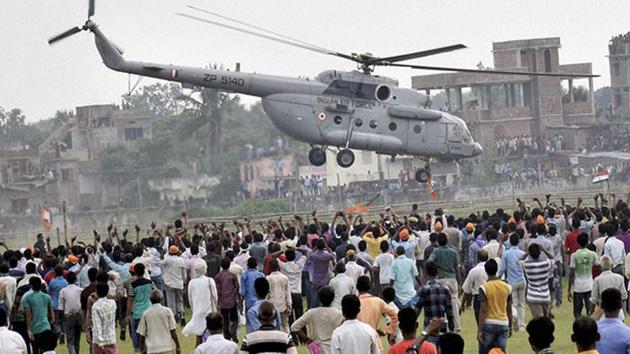 The Prime Minister's Office has paid around Rs 89 lakh to the Indian Air Force for flying Narendra Modi on 128 "non-official" domestic trips since he took office, an expense that was lower than what it would have been had the PM used through commercial providers.
The trips were largely for electioneering, and India's election code makes it must for ministers — including the PM — to reimburse the government if its machinery is used in such cases.
The flights provided by IAF were mostly when the Prime Minister had to fly out to remote locations in helicopters or small planes instead of his usual mode of air transport: the Air India One. The rates for these flights were last revised by the defence ministry in 1999.
In all, the IAF provided details of 128 non-official flights taken by the PM from May 2014 till February 2017, when Modi was on a whirlwind tour of election-bound states that included Uttar Pradesh, Bihar, West Bengal, Maharashtra, Haryana, Jharkhand and Assam, the Right to Information reply provided by the air force to Commodore (retired) Lokesh K Batra said.
The disclosures could cause some unease among Bharatiya Janata Party's rivals, who can claim that the lower rates put the PM's party at an advantage with respect to election spending.
In his application, Batra asked the IAF about the domestic visits by the PM and the mode of payment. He also sought details of the rules under which the PM is allowed to use IAF planes for domestic visits.
Quoting the rules, the IAF said no charge will be recovered for use of aircraft by the President, vice-president, the prime minister (except when he/she travels otherwise than on official duty), the ministers of defence and home and senior defence ministry officials for defence purposes.
The reply said the rates will be calculated at commercial rates if the destination is linked by a regular commercial air service and, in other cases, with reference to per passenger per kilometres rates notified by the defence ministry. The reply said the rates were last notified in 1999.
The PMO paid the air force Rs 31,000 for a Delhi-Gorakhpur-Delhi flight and Rs 7,818 for Mangalore-Kasargod-Mangalore flight, which private chartered airline operators said was lower than the commercial rate.
The cost for Delhi-Rohtak-Sonipat-Ambala trip was Rs 1,00,440, and the PMO paid Rs 63,957 for Kolkata-Balasore-Kalaikunda-Balasore-Kalaikunda-Bagdogra-Guwahati flight. Cost of some flights like Calicut-Vikram ground was just Rs 5,693.
"It is surprising that the PMO has paid for PM's non-official visits which were for electioneering. As per election rules, his party (BJP) should have paid the money," Batra said.
BJP sources, however, said that the money is paid to the PMO and is shown in the election expenditure report submitted to the election commission.
Personalise your news feed. Follow trending topics