Ayurveda doctors can't do surgery in hospitals, says Medical Council of India
At Banaras Hindu University, the hub for Ayurveda medicine, vaids are trained to perform routine surgeries.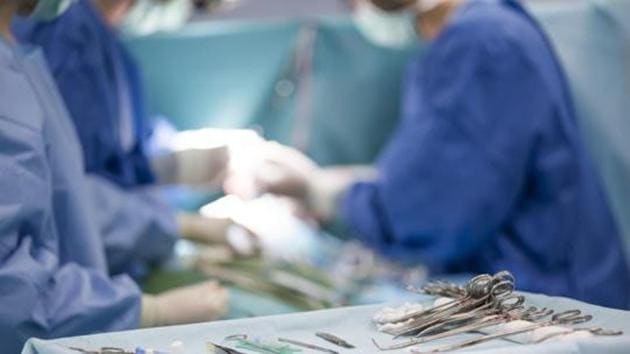 Updated on Sep 08, 2018 11:10 PM IST
Can Ayurveda practitioners perform surgeries? Those trained to perform surgeries can do it everywhere, says Ayush ministry, while medical education regulator Medical Council of India (MCI) says they cannot in hospitals for modern medicine.
Following a Central Information Commission order in June asking the Ayush ministry "to clarify upon the issue of entitlement and extent of practitioner of India system of medicine to perform surgeries lawfully", the ministry said surgeries were a part of Ayurveda curriculum.
"They can perform whatever is in their syllabus , but there are obviously certain exceptions. They cannot perform all procedures, including certain major surgeries. For more clarity, we are drawing up a list of do's and don'ts so we can convince the MCI," said Vaidya Rajesh Kotecha, secretary Ayush.
Ayush ministry sought MCI approval, which was refused.
"We have refused as under MCI rules, crosspathy (mixing different methods of medicine) isn't allowed. MCI's stand is quite clear on this; Ayurveda surgeons cannot be mainstreamed. Surgery and associated procedures are part of modern medical science; whatever these practitioners are taught as part of their curriculum, cannot be allowed to be practices in allopathic hospitals," said Dr Reena Nayyar, secretary, MCI.
In March, the Parliamentary Standing Committee reviewing the National Medical Commission Bill, 2017, also recommended against Ayush doctors practicing allopathy after completing a short-term course.
At Banaras Hindu University, the hub for Ayurveda medicine, vaids are trained to perform routine surgeries.
"It is a misconception that Ayurvedic doctors cannot perform surgeries. Apart from performing caesarean sections and hernia surgeries, Ayurveda surgeons have pioneered certain procedures for piles and fissure where modern medicine isn't of much help," says Dr VN Mishra, medical superintendent, Sir Sunderlal Hospital, BHU.
There is no risk of crosspathy, say Ayurveda practitioners.
Close Story
Personalise your news feed. Follow trending topics