Babri dispute: Shia Waqf Board says mosque can come up at a distance
In affidavit to SC, Shia Wakf Board challenges its Sunni counterparts position as one of the parties to the case, insisting that the mosque was a Shia mosque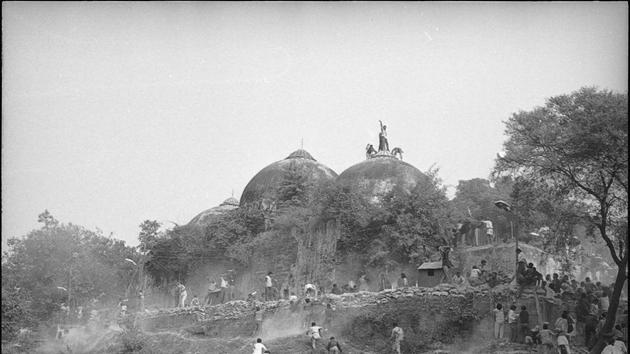 Updated on Aug 08, 2017 10:51 PM IST
A mosque can be built in a Muslim-dominated area at a reasonable distance from the "most revered place of birth of Ram" in Ayodhya, the Shia wakf board told the Supreme Court on Tuesday.
The affidavit submitted by the Uttar Pradesh Shia board takes a position opposite to that of the Sunni board that claims ownership of the disputed site and rejects Hindu groups' claims to the spot, highlighting differences within the Muslim community over the contentious issue.
"To bring a quietus to the issue, masjid (mosque) can be located in a Muslim-dominated area at a reasonable distance from the most revered place of birth of Ram," said the 30-page affidavit.
Proximity of "place of worships should be avoided in as much as both denominations using loudspeakers tend to disturb religious performance of each other often leading to conflicts and acrimony", it said.
The board also told the court the mosque site was its property and only it was entitled to hold negotiations for an amicable settlement of the dispute.
The document comes three days before the Supreme Court begins hearing challenges to an Allahabad high court verdict on the land dispute in the case.
"The Sunni board has no stake in the case since the mosque was a Shia property," it said of the Mughal-era mosque that was demolished by a Hindu mob in 1992.
Many Hindus believe that god Ram was born where Babur, the first Mughal emperor, built the mosque.
The disputed 2.7-acre piece of land remains India's most potent religious flashpoint. More than 3,000 people were killed in the communal violence that followed mosque's demolition.
"A property's status is known by its creator – whether Shai/ Sunni and Babri masjid was built by one Mir Baqi, a Shia," the affidavit said.
An inscription in the mosque said it was built by Babur's commander Mir Baqi in 1528-29 on the orders of the Mughal emperor but some dismiss it as a piece of fiction.
The Allahabad high court said not less than 1/3rd of the property should go to Muslims. Muslims meant Shia waqf since the court "rejected the claim of Sunni waqf on the Babri masjid", said the affidavit, which came after the board late July decided to stake claim to the disputed site.
The board also requested the court to appoint a committee to resolve the decades-long dispute.
The court recently constituted a three-judge bench to hear petitions against the Allahabad high court verdict that divided the land between Ram Lalla, Nirmohi Akhada and the Sunni wakf board.
Close Story