Back from the brink of extinction: How the Gangetic dolphins made a comeback
Hindustan Times, Allahabad |
Smriti Malaviya
Feb 10, 2017 08:56 AM IST
The species, one of the four freshwater dolphins in the world, was declared India's National Aquatic Animal in 2009
On the verge of extinction, recent spotting of Gangetic dolphins in the state's river system has brought cheer to scientists, forest officers and environmentalists. The species, one of the four freshwater dolphins in the world, was declared India's National Aquatic Animal in 2009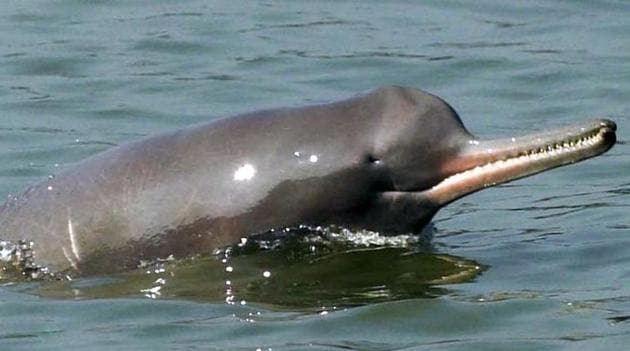 Efforts of some government officers to bring down pollution in Ganga have revived the dwindling population of the freshwater mammal. As many as 110 dolphins were spotted in a 90 km stretch from Kaushambi to Handia in a recent dolphin population mapping project.
The mapping was jointly undertaken by district administration, forest department and World Wildlife Fund India (WWF India). The inclusion in Schedule 1 of Wildlife (Protection) Act, 1972 provides absolute protection to the endangered species.
Read | The Ganga's missing dolphins
Conservation of dolphins in this part of UP was spearheaded by district magistrate, Sanjay Kumar. The DM said the re-appearance of Gangetic dolphins was indicative of improved and excellent water quality.
"Their conservation was a Herculean task because of unabated pollution. Moreover these dolphins get trapped in fishing nets. Fishermen had to be educated about changing the kind of nets they use so that dolphins are no longer threatened. Dolphins feed on a certain species of fish. We focused on the availability of this fish in Ganga," he said.
Amit Bhatt, subdivisional magistrate (SDM) Fatehpur, also involved in the project said dolphin population had increased since water nutrification had also improved. Nutrification is a process in which water bodies receive an excess amount of nutrients which supplement the habitat in which dolphins thrive.
Bhatt, on how water quality was improved said, "We reversed the deterioration through anti-bacterial processes. Population of freshwater dolphin declines in polluted water. So we closed down 24 drains discharging sewer water into Ganga. Six sewer treatment plants were also made functional. It took us some time, but the efforts paid off."
Bhatt said a Japanese research team also visited Allahabad to study the behavior of the dolphins. The team was conducting research in a stretch from Gomukh to Gangasagar, he said.
Read | Bengal moves closer to setting up India's second dolphin community reserve