Bamboo schools boost education in Chhattisgarh's Maoist hotbed Bastar
Oct 07, 2016 07:58 AM IST
Chhattisgarh has identified 65 panchayats in Bastar zone that have decided to build bamboo-structure schools.
The structure isn't concrete, but the middle-aged tribal is only delighted. Sitting in front of the bamboo-made school, Krishna Kumar Gond watches kids play in the fields of their Tarandul village.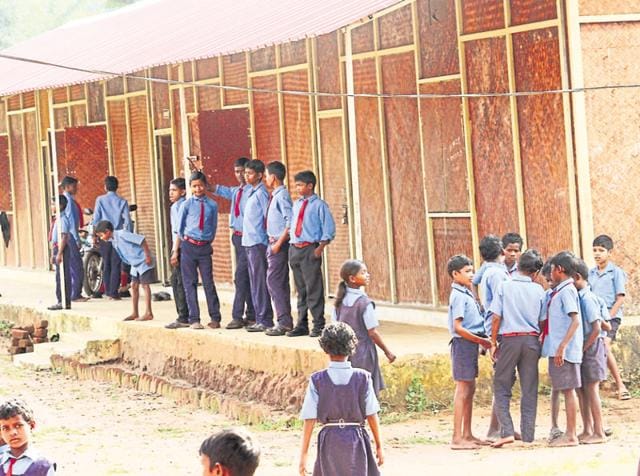 "I hope things are going to change…because of this bamboo school," says the 45-year-old man. "It will change the fortune of this village."
Tarandul, which is 70km from Kanker of southwest Chhattisgarh, is a Maoist-affected village atop a hill. Even so, five districts of tribal-dominated Bastar division that includes Kanker are witnessing a potential revolution in education, thanks to a 2013 initiative that facilitates schools to come up as bamboo structures.
Why no pucca buildings? For, Maoists have "disallowed" using concrete in the construction of buildings, which they suspect would double up as camps for security forces. In any case, many villages of the rugged area are too remote to bring brick and mortar.
The only educational institution in Tarandul had 'primary' status till 2014, when it was upgraded to a high school. Today, the state has identified 65 panchayats in Bastar zone that have decided to build bamboo-structure schools.
The drive, under the Centre's Rashtriya Madhyamik Shiksha Abhiyan (RMSA), has found warm response. It has emboldened villagers to send their children to school.
"From 2009 to 2012, the public works department issued about a dozen tenders to build concrete building structures, but none came forward because of the Maoist menace. The insurgents destroyed 200 structures in Bastar division over the past few years," recalls Ajay Mahapatra, additional project officer of the RMSA.
"Then, in 2013, the Abhiyan gave its nod to the concept of bamboo schools."
The 2009-launched RSMA works for the development of secondary education in public schools across India. "The Maoists have sort of accepted the bamboo school idea," says Upendra Rai, a scribe in Kanker. "They know security forces cannot use this kind of a structure against them."
Cost-wise, it makes little difference. "Government records show concrete schools are built at Rs 49.75 lakh, while the bamboo-made one costs Rs 48.07 lakh. The structure has to be fire-proof and chemically treated against termites," reveals Mahapatra. "It takes only 15-20 days to complete a structure with all the basic amenities, including toilets, four rooms and a kitchen."
Adds superintendent of police (Kanker) ML Kotwani: "The raw materials are easy to transport."
Currently, the region has 43 bamboo schools where classes are on.