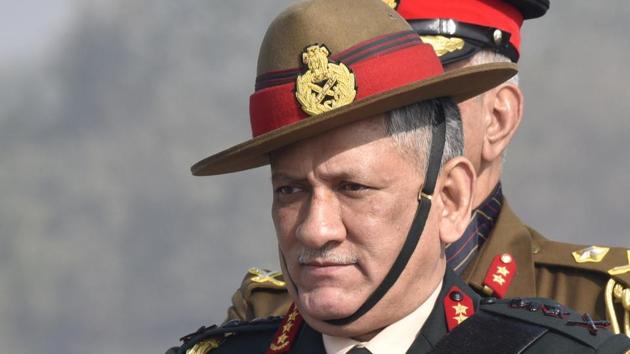 Action first, talk later: Army chief hints at revenge for beheading of soldiers
Pakistan has denied its soldiers mutilated Indian soldiers but Delhi has told its envoy it had enough evidence.
UPDATED ON MAY 05, 2017 06:59 AM IST
Army chief General Bipin Rawat indicated on Thursday the force would retaliate to the beheading of two Indian soldiers by Pakistani troops, but refused to spell out details.
The killing and mutilation of the soldiers in a cross-LoC raid on Monday sparked widespread anger, with family members and political leaders demanding similar action against the neighbouring country.
"We don't talk about future plans beforehand; we share details after execution," the chief said in his first public reaction to the attack carried out by Pakistan's Border Action Team (BAT) in the Krishna Ghati sector of Jammu and Kashmir's Poonch district.
Members of the BAT, considered a rogue squad of Pakistani army regulars and militant mercenaries, ambushed an Indian border patrol and killed naib subedar Paramjit Singh, a 42-year-old junior commissioned officer with 22 Sikh Regiment, and 45-year-old head constable Prem Sagar of the BSF's 200 Battalion. Their decapitated bodies were found later.
"When this kind of action takes place, we also carry out retaliatory action," the army chief said.
His remarks came on a day security forces launched an anti-insurgency door-to-door search operation with around 4,000 troops, helicopters and drones in south Kashmir.
This was the biggest combing mission against militants for more than a decade in the Kashmir Valley, which is besieged by a spate of militant attacks, bank robberies and cross-border shelling from Pakistan.
Insurgents attacked an army patrol in Shopian district, about 55km from Srinagar, on Thursday, killing a civilian and wounding three soldiers.
Gen. Rawat, who has vast operational experience in J&K, said incidents of the past few days had necessitated the move.
"Banks have been looted, policemen have been killed. That is why today's combing operation is taking place. These operations are carried out regularly," he said.
The chief, who was in Kashmir on Tuesday, said the army had beefed up counter-infiltration measures as snow was melting and militants would try to sneak into India. The border state witnesses a long and harsh winter, with snow blocking mountain passes used by militants.
Pakistan has denied its soldiers carried out Monday's attack and beheaded the soldiers. But India told Pakistani high commissioner Abdul Basit that there's enough evidence, including a blood trail, to prove troops from the neighbouring nation crossed the border, killed the two men and carried their heads back.
Army vice chief Lieutenant General Sarath Chand said Pakistan army would have to accept responsibility and face consequences for its action. "We don't want to talk about what we will do. We will do what we have to do at the time and place of our choosing."
India had last September hit terror launch pads across the Line of Control 10 days after an attack by suspected Pakistani militants on a camp in Uri left 19 soldiers dead.
Gen. Rawat was closely involved in the planning and execution of the operation that has become famous as India's surgical strike.
He said there was a perception that military expenditure was a burden on the country's economy, but a strong army is vital to economic growth. He assured that a national military strategy and a security framework would be finalised soon.
(With inputs from HT Correspondent, Srinagar)
Close