Party drugs such as Molly, Meow Meow more popular but ganja most seized in India
Updated on Dec 25, 2017 01:12 PM IST
According to the Narcotics Control Bureau's data, there has been a steep rise in synthetic drugs over the past five years, with experts saying this is indicative of a generational shift.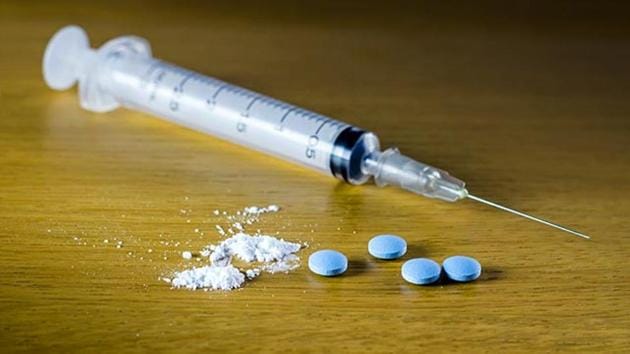 The popularity of synthetic or party drugs has increased manifold over the past five years in India but the use of conventional substances such as cocaine, heroin, and hashish has remained static or decreased, government data shows.
In terms of volume, marijuana or ganja remains the most common drug seized at more than 2 lakh kg, according to the Narcotics Control Bureau (NCB), which collected the data on drugs seized across India in 2016 by various law-enforcement agencies.
The confiscation of party drugs – amphetamine-type stimulants (ATS) such as MDMA or Molly — increased from 40kg in 2012 to 1,687kg last year.
Drug enforcement agencies believe Molly is brought to the country from illegal labs and factories in Myanmar.
"There is an increase in abuse of drugs such as MDMA and Meow Meow. Our officials busted several laboratories," said RR Singh, the NCB deputy director general (operations).
Most cases of ATS seizures were in Gujarat, followed by Andhra Pradesh. Molly tablet promise to give a "happy high" and increase emotionally charged memories for around 12 hours.
In 2012, the seizure of ephedrine across India was 4,393kg and this increased more than five times to 21,272kg last year.
Ephedrine, a prescription stimulant used in cough syrups, is often abused for its performance-enhancing effects and to make Ecstasy pills. Ecstasy, which can trigger hallucination and hysteria, is believed to be the most common in party circles.
The abuse of methaqualone, which sells as Mandrax, has registered a meteoric rise as well. From 216kg seized in 2012, the figure rose to 24,107kg in 2016. The highest seizure was in Maharashtra, followed by Madhya Pradesh. Initially used to treat sleep disorders and malaria, methaqualone is abused as a hypnotic and recreational drug.
Medical experts blamed online texts on such drugs for the rise in their abuse in India.
"Exposure to various views on the Internet has increased the tendency to experiment, as a lot of literature available online creates ambiguity around the harms of the substance that unfortunately leads to more experimentation and moving on to harder drugs," said Dr Samir Parikh, the director of mental health and behavioural sciences at Fortis hospitals in New Delhi.
Doctors are registering a considerable rise in drug abusers, though there's no latest national data to bring out the magnitude of the problem, Parikh said. "In clinical practice, there has been over a five-fold increase in adolescents coming for problems related to substance use in under a decade."
The abuse of synthetic drugs shows a generational shift, points out Dr Nimesh Desai, director of the Institute of Human Behaviour and Allied Sciences (IHBAS).
"People have more money now to buy such drugs. People don't come out to talk about these drugs, which makes treatment even more difficult. It is a good thing law-enforcement agencies are making more arrests," he said.
NCB officials believe synthetic drugs became popular because of the prohibitive price of cocaine, whose seizure went down from 44kg in 2012 to 28kg last year. Drugs such as hash, opium, morphine are losing popularity as well.
But several cocaine cases were busted in 2017, according to NCB deputy director general Singh.
"This year, we found that unemployed youth from Venezuela and Bolivia are working as couriers of cocaine. Most cocaine seizures were at airports."
The number of arrests of peddlers and smugglers under the narcotic drugs psychotropic substances act has increased too — from 13,871 in 2012 to 38,975 last year.
"The increase in number of arrests is more because of sensitisation of police officers," Singh said.
Personalise your news feed. Follow trending topics