Two small town women kabaddi players overcome 'Dangal' odds, make it to SAI
Like reel-life Dangal, two Bihar girls overcome odds to make it to the kabaddi special training camp at SAI centre in Gandhinagar, as they hope to make it to the Indian team for the Asian Games in 2018.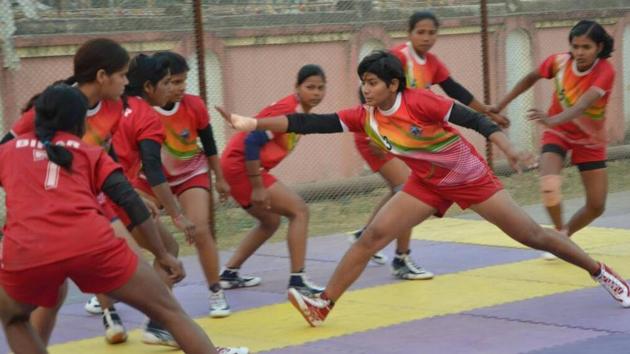 Updated on Jul 06, 2017 04:46 PM IST
PATNA Two small town women kabaddi players from the backwaters of Bihar, whose life closely mimicked the test and grind of the Phogat wrestling sisters of Haryana in Aamir Khan movie 'Dangal'- have finally overcome similar bias and prejudice to emerge winners in real life.
They are among the 20 girls across the country and the first two from Bihar to be attending for the last six months the special training camp of the Sports Authority of India (SAI) at Gandhinagar in Gujarat. They hope to don the Indian colours for the Asian Games at Jakarta in Indonesia, the South Asian Federation Games in Nepal and the women's kabaddi World Cup, all of which are lined up next year.
For Shama Parveen, 22, of nondescript Moazzanchak Dariyapur village in Mokama town of Patna district, and Komal Kumari, 18, of adjoining Mahenderpur village, separated by a distance of 3 kms, the journey has not been smooth. Quite as in Aamir Khan's Bollywood blockbuster Dangal - the story of Phogat sisters, Geeta and Babita Babita, from Haryana who worked against all odds to grab international fame - they too have braved odds. At Rs 1930 crore, Dangal is now the fifth highest grossing non-English film ever.
"Every woman player here has had to face difficulties at personal and professional levels. But for me things were far more difficult as I belong to a community in which women are supposed to be covered from tip to toe, all the time," said Shama.
She continued, "People, both within my family and outside, even condemned my parents for allowing me to practice kabaddi in shorts," pointing to the similarity with Dangal. "But my father Md Iliyas, my initial coach, and mother Farida Khatoon were firm and taught me never to look back," she added.
"To escape biting and lurid comments of people, we had to change our practice venue. People would not allow us even to practice on vacant grounds. Faced with social resistance, we had to change 10-20 venues, trying to move to still more secluded grounds in the village, almost every week," she recalled.
"I don't remember exactly how many times we changed practice ground, as people would either shoo us away or boys would assemble at the practice venue, jeer at us, and even make catcalls, despite my father, who was my initial coach, being there," Shama added.
Shama's father who was a labourer at Bata shoe factory in Mokama before it was shut down some four years back, now runs a small cloth shop. "The business is hardly enough to sustain a comfortable living, but my father has not let me deviate from my dreams of winning an international medal for my country in kabaddi," she said.
Komal Kumari was critical of the poor facilities for kabaddi in the state. "There is a kabaddi academy in Patna, but it does not have residential facility. Poor girls like us cannot afford to go there every day from Mokama and aspire to achieve big," she said.
The duo who has represented Bihar in 10-15 national tourneys between them were picked up by the SAI selection committee last year while representing the state in senior national last year. Having completed a fully sponsored six-month stint under the tutelage of national coach Jaiveer Sharma at the SAI camp in Gandhinagar, they have six more months of training left, before they hope to make it to the national team for the Asian Games.
Kumar Vijay, secretary of the Bihar unit of the Kabaddi Association of India, said: "Previously, Smita Kumari from Bihar had made it to the Indian kabaddi team 8-10 years back. We are hopeful of both Shama and Komal making the cut for the Asiad this time."
Kabaddi made its first appearance as an exhibition sport in the 1982 Asian Games and became a regular event in the 1990 Asiad at Beijing in China.
"The country has always dominated the event in the women's category and we hope that these two girls will do our country proud," Vijay signed off.
TAKING THE LEAD
QUOTE
There is a kabaddi academy in Patna, but it does not have residential facility. Poor girls like us cannot afford to go there every day from Mokama and aspire to achieve big
Komal Kumari, kabaddi player
Close Story