Tripura: Two Lenin statues toppled amid violence, BJP-CPM in blame game
Updated on Mar 06, 2018 10:43 PM IST
A couple of Lenin statues were toppled in the post-poll violence that hit Tripura after the assembly election results, declared on Saturday, brought in a BJP majority in the state.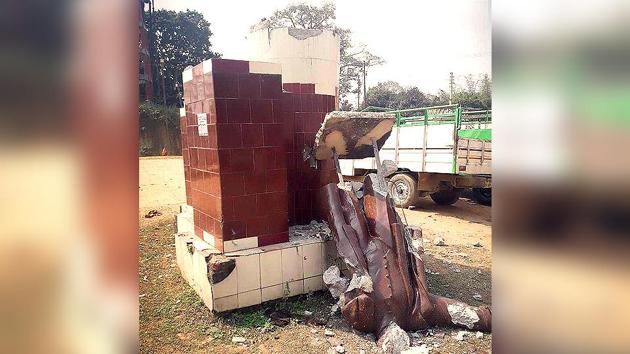 Hindustan Times, Agartala |
, Agartala
Priyanka Deb Barman
A couple of statues of communist icon Vladimir Lenin were pulled down in Tripura, police said on Tuesday, even as authorities struggled to contain the post-poll violence after the BJP swept to power on March 3 and ended 25 years of leftist rule in the state.
According to police, a Lenin statue was demolished with a payloader in Belonia and another one was razed to the ground at Sabroom — both in the state's South district.
"People in the area wanted statues of national heroes such as Swami Vivekananda, Sardar Vallabhbhai Patel, and Mother Teresa instead of Lenin since long. Whatever happened in Belonia is the outcome of public fury," BJP spokesperson Subrata Chakraborty said and denied that party workers have a hand in the demolition.
The BJP and the Communist Party of India (Marxist), which ruled the state for a quarter of a century, blamed each other for the violence.
The second demolition happened about two days ago but was discovered on Tuesday, according to police. "We are looking into the matter," South district superintendent of police Manchak Ipper said.
Section 144, which prohibits assembly of more than five people, was in place in many areas and police arrested Ashish Pal, the driver of the payloader used to topple a statue of Lenin in Belonia on Monday. Pal is a resident of Udaipur in Gomati district and was hired by the vehicle's owner.
In a video clip, which has been shared widely on social media, a mob can be heard chanting Bharat Mata Ki Jai when the statue was tumbling down. Police sources, requesting anonymity, said a victory procession was being carried out by the BJP when a group broke out and directed the payloader to the statue.
The demolitions happened as supporters of the two parties allegedly clashed in several places.
BJP state vice president Subal Bhowmik said around 49 party activists were wounded in attacks by CPI(M) men. "Even police from the lower ranks were working at the behest of CPI(M). After taking oath of office, we will take stern action against the people involved in violence," Bhowmik said.
For its part, the CPI(M) wrote of attacks by "BJP goons" on party offices and members across Tripura in a letter to Prime Minister Narendra Modi, accusing his party of inciting violence after its victory in the assembly polls held this February.
Politburo member M Salim sought Modi's "immediate intervention" in the matter. "These goons have unleashed a reign of terror. 514 individuals were injured, 1,539 houses were attacked, 196 houses were set on fire, 134 CPI(M) offices were attacked and 208 party offices were captured," he said.
Party general secretary Sitaram Yechury took out protest rallies in Kolkata along with his predecessor, Prakash Karat, and members of the politburo.
"These attacks show the RSS for what they are. Violence is their standard recipe," Yechury told mediapersons on the sidelines of the event. "It is a pity that Tripura governor Tathagata Roy expressed happiness after a statue of Lenin was demolished. Even constitutional positions have been occupied (by RSS sympathisers)."
This came after governor Roy tweeted: "What one democratically elected government can do another democratically elected government can undo. And vice versa."
Union home minister Rajnath Singh spoke to the governor and director general of police on Tuesday to ensure peace in the state, where the new government is expected to be sworn in on March 8.
Along with the change in the government, Tripura is expected to see a new education policy and streets with new names. "The education policy will change totally. National leaders' histories that are missing in school syllabus would be introduced. There would a small chapter on the Marxist rulers too," BJP state in-charge Sunil Deodhar said.
The Left government had made similar changes as well. It replaced Indian history from Class 9 books with the Russian and French revolutions. The only national icon to find mention is Mahatma Gandhi and that, too, for his views on cricket.
Personalise your news feed. Follow trending topics