BJP, RSS breaking J&K's composite culture: Rahul Gandhi
The Congress leader said that he also plans to visit Ladakh, adding that whenever he visits the union territory, he feels "at home"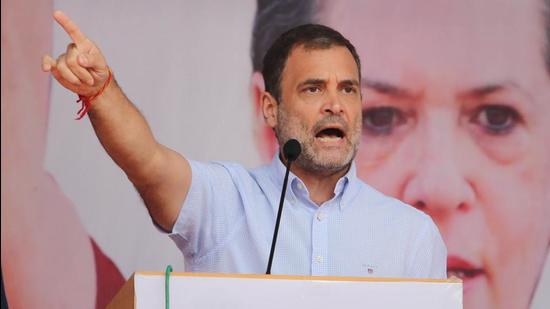 Updated on Sep 11, 2021 06:04 AM IST
Congress leader Rahul Gandhi on Friday accused the Bharatiya Janata Party (BJP) and its ideological fount, the Rashtriya Swayamsevak Sangh (RSS), of trying to break the composite culture of Jammu & Kashmir.
"The feeling of love, brotherhood that exists amongst you all is being ruined by the people of BJP and RSS. Your composite culture was attacked, your brotherhood was attacked and they weakened you before snatching your statehood. You can see for yourself that the Union territory's economy, tourism, business are badly hurt," Gandhi told party officer bearers at a function, on the second day of his two-day visit in Jammu.
The former Congress chief, who paid obeisance at the Mata Vaishno Devi shrine in Katra on Thursday, said: "There are three symbols of mata (pindis) there - Mata Durga, Mata Lakshmi and Mata Saraswati. Durga ji symbolises the power to protect, Lakshmi ji fulfils one's aim and Saraswati ji is for knowledge. The BJP weakened all these powers when it converted Jammu & Kashmir into a Union territory, brought farm laws, demonetisation, Goods and Services Tax, and installed people having RSS background in educational institutions."
"When these three shaktis (powers) are in your home and country, your home and country will make progress," he said in an indirect attack on the Centre over its economic policies.
Gandhi further recalled how the three powers were strengthened during the Congress regime when the Mahatma Gandhi National Rural Employment Guarantee Act or MGNREGA was implemented and the gross domestic product rate stood at 9%.
Pointing towards his hand, Gandhi correlated the Congress election symbol with Lord Shiva and Guru Nanak Dev, and said it was the symbol of being fearless. "This hand is the symbol that you should not be afraid of anything," he said, adding that the "BJP is afraid of everything".
Asking party cadres to strengthen the Congress, Gandhi said: "The day party workers feel that they are being heard in the party, Congress will come back with not 100, 200, 300, but 450 seats."
The Congress leader also spoke of his meeting with a delegation of Kashmiri Pandits earlier in the day. "During the meeting, I realised that I am part of this delegation. My family is also a Kashmiri Pandit family and I am a Kashmiri Pandit. Therefore, I want to say here that I don't lie and I want to tell my Kashmiri Pandit brethren that I will help you," he said.
Gandhi said he planned to visit Ladakh soon, and added that his visits to the Union territory always made him feel "at home".
"This is my second visit to Jammu & Kashmir in a month and I will be visiting Ladakh shortly. I had said in Srinagar that whenever I come to Jammu & Kashmir, I feel that I have come home. Yesterday I went to offer prayers at Vaishno Devi and I felt at home. My family has very old relations with Jammu & Kashmir," the Congress leader said.
The Congress leader also reached out to displaced Kashmiri Pandits, saying he and his family belong to this community, and promised them all help. "I do not tell lies," the Congress leader said.
Hitting back, BJP leader Sambit Patra said: "Astonishingly Gandhi forgot that the woes of the Kashmiri Pandit's were because of the 'politics of appeasement' of Congress.Congress for its petty vote bank politics sacrificed also the development of Kashmir."
(With PTI inputs)
Close Story
Personalise your news feed. Follow trending topics