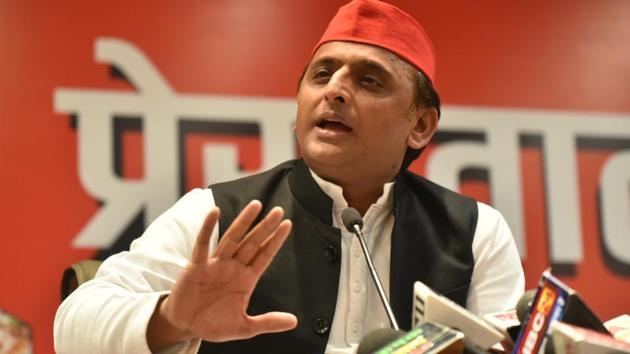 'CBI doesn't vote': Akhilesh Yadav attacks BJP over timing of probe in mining scam
The CBI on Saturday carried out searches at 14 places in Uttar Pradesh and Delhi in an ongoing investigation of a case relating to alleged illegal mining of minor minerals in the state's Hamirpur district between 2012 and 2016, when Akhilesh Yadav was chief minister.
Hindustan Times, Lucknow/New Delhi | By HT Correspondents
UPDATED ON JAN 06, 2019 11:33 PM IST
Samajwadi Party president Akhilesh Yadav today said he was ready to be questioned by the Central Bureau of Investigation (CBI) in a case of illegal sand mining in Uttar Pradesh, even as he accused the Bharatiya Janata Party (BJP) of using the investigative agency for political gains ahead of the Lok Sabha elections.
The CBI on Saturday carried out searches at 14 places in Uttar Pradesh and Delhi in an ongoing investigation of a case relating to alleged illegal mining of minor minerals in the state's Hamirpur district. The agency has registered a case under the Prevention of Corruption Act against the then district magistrate of Hamirpur, then geologist/mining officer, the then mining clerk, and eight others.
Responding to reports that CBI was likely to question him in the case, Yadav, who was chief minister of the state from 2012 to 2017 during which the alleged scam happened, said: "I am in politics and ready to take up any challenge… This is the third time. The first (CBI) probe was done by the Congress regime against both me and my wife Dimple. The second investigation was done when some MP had levelled false allegations against me."
"We came out unscathed earlier and will do so again," he said.
An inquiry into alleged illegal mining in Hamirpur began after the Allahabad high court's order following allegations that public servants, in criminal conspiracy with other accused, allowed illegal mining of minor minerals in the district between 2012 and 2016. It was alleged that they illegally granted fresh leases for mining of sand, renewed existing leases and permitted obstructed period to the existing leaseholders, thereby causing losses to the government exchequer.
"Why have they taken six years to include me in the probe? No one had ever questioned or investigated my role till now. In six years, no notice, no mention of my name was ever made. Suddenly, the ruling dispensation decided to probe my role as a minister. It's a second thought, a desperate move by the BJP leadership to browbeat us," Yadav said on being asked if the probe against him assumed significance following alliance talks his party was holding with Mayawati's Bahujan Samaj Party (BSP).
"At the most, I will contest one seat. It is the public that is going to defeat them (BJP). How will they use CBI against the people?" he said.
The SP chief warned the BJP that it will have to face "the same culture that it is leaving behind". "It (the BJP) had spent Rs 5,000 crore in last polls. Don't know from where all, and from whom all it took money. This time BJP also has CBI so it will use CBI," he alleged.
"BJP has shown its true colours... that it will go to any extent in the next polls, using anything - be it money or CBI. BJP must understand that CBI does not vote, it is people who vote," he added.
He said that the SP and BSP will ally and contest polls together.
"Whatever CBI has to do, let it," he said.
The BJP, meanwhile, alleged that Yadav "presided over a government that was hand-in-glove with the mining syndicate in the state".
Responding to the SP chief's allegation that the BJP was using the CBI for political gains, UP minister Siddharth Nath Singh said the probe agency does not work "keeping mind the timing of elections or gathbandhans (alliances)."
He said Yadav, who held the mining portfolio in UP between 2012 and 13, is answerable in the case.
The CBI is likely to investigate the role of more retired and serving Indian Administrative Services (IAS) officers in the case after naming B Chandrakala, then Hamirpur DM, in its FIR, an official with knowledge of the case said on condition of anonymity.
The official said that other than Chandrakala, who was the DM of the district between April 13, 2012 and June 6, 2014, two IAS officers who have now retired are under the agency's scanner. The two officers were posted in Hamirpur between June 7, 2014 and July 28, 2016, the official said.
Close