Chhattisgarh: Rahul Gandhi slams PM Modi's 'silence' on rapes, killings in Bastar
Congress vice-president Rahul Gandhi raised questions on "silence of Prime Minister Narendra Modi on rapes, killings and atrocities" in Chhattisgarh's Bastar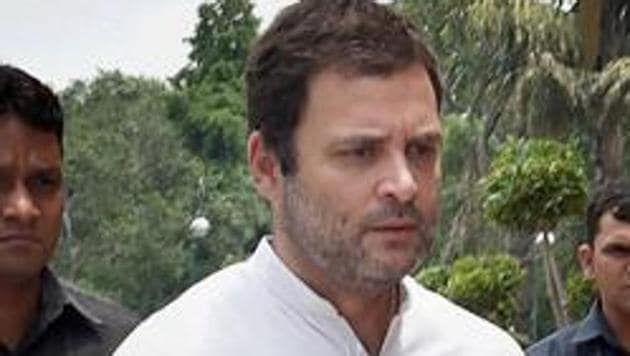 Updated on Jul 29, 2017 08:02 PM IST
Hindustan Times, Nagarnar |
Ritesh Mishra
Congress vice-president Rahul Gandhi raised questions on "silence of Prime Minister Narendra Modi on rapes, killings and atrocities" in Bastar and also targeted Chhattisgarh chief minister Raman Singh on the Panama Papers revelations, on Saturday.
Slamming the PM and the Bharatiya Janata Party (BJP), he said, "Jahan jaate hain ek Hindustani ko doosre Hindustani se ladaate hain... Jammu Kashmir mein aag laga di... Northeast mein aag laga di... Haryana mein aag laga di... Chhattisgarh mein mahilaaon ko maar rahe hain, lekin pradhanmantri ji ne ek shabd nahi bola (Wherever they do they initiate fights between Indians... triggered fires in Jammu and Kashmir, Northeast, Haryana... Women are being beaten up in Chhattisgarh, but the prime minister has not uttered a word)."
Rahul was addressing a rally at Nagarnar in Maoist-affected Bastar region.
Attacking Singh, he said Nawaz Sharif resigned as Pakistan prime minister after his family's name figured in the Panama Papers, but the Chhattisgarh CM had not resigned yet despite his family also facing allegations in the scandal. Last year, the Congress alleged Singh's son Abhishek held offshore assets as per the Panama Papers, which are leaked documents of about 1.15 crore files containing details of nearly 2.15 lakh bank accounts.
Singh and his son, the Lok Sabha MP from Rajnandgaon, have rubbished the allegations. Singh has described the charges as "baseless and unfounded".
Rahul said Singh was not resigning "because he is a leader of RSS and BJP. Modi ji talks about corruption. Why he can't see the corruption of Raman Singh and Rajasthan CM (Vasundhara Raje)."
The Congress leader was addressing the rally organised against the proposed disinvestment of the state-owned National Mineral Development Corporation (NMDC) steel plant coming up at Nagarnar.
"Congress party opposes this disinvestment and will fight for the people of Bastar. I have never seen an incomplete public sector plant being sold like this," he said. Rahul added he would always be available and fight for the indigenous people of Bastar. "Bastar is a symbol and if Bastar is weak, the whole country is weak," he added.
Earlier, interacting with tribal students during a programme "Amcho Bastar (Our Bastar)", he said strife started in several states after the BJP-led National Democratic Alliance (NDA) came in power in May 2014.
He said unrest in various parts of the country will benefit the Rashtriya Swayamsevak Sangh (RSS), China and Pakistan. "You all have seen how the people of Jammu and Kashmir were living peacefully when the Congress-led UPA (United Progressive Alliance) was in power, but the situation worsened after the BJP came to power there in coalition with the PDP," he added.
Responding to a question, Rahul said the RSS, considered the ideological fountainhead of the BJP, wanted Dalits , tribals and backward classes to remain oppressed so that they could always rule over them.
Close Story