Children of farmers who committed suicide join protest at Jantar Mantar
Jul 20, 2017 12:05 AM IST
For children of farmers who committed suicide, the fight with the government is twice as rough.
Ashok Patil, 16, who lives in a children's home in Nasik, still has the last memories of his father fresh in his mind. "We had lunch after which he went to the farm. After few hours some people came to our house with his body," he said.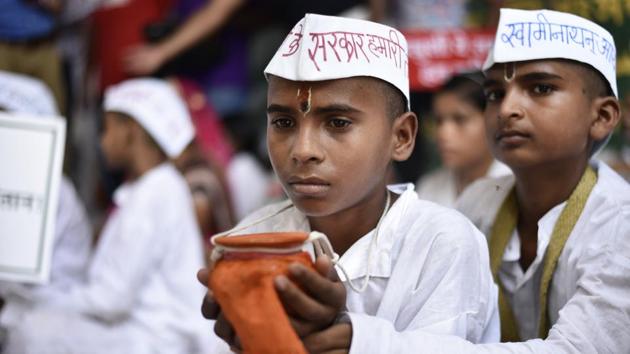 Patel was just nine years old when his father, a cotton farmer in a village in Gadchiroli district, committed suicide unable to pay debt to the money lender.
His relatives sent him to the children's home in Nasik due to the poor condition of family.
The last time Patil went to his home was when he was in Class 5 — four years ago.
"My mother calls me once in a month, I want to go home. But where will the ticket's money come from?" he said.
He lives in the children's home Adhartirth ashram with 400 others who lost their fathers to penury.
Like Patil, 40 children from this ashram, who have similar stories to share, gathered at Jantar Mantar on Wednesday demanding financial help for the families of farmers who committed suicide and waiver of debt for famers across India.
They were brought to Jantar Mantar by All India Kisan Sangharsh Coordination Committee which is holding agitation at Jantar Mantar since past two days demanding complete loan waver of farmers
Pallavi Panwar, 15, who too lost her father after he killed self unable to pay bank's loan, said, "Our family has suffered but if government does something , at least other farmers in the country will not quit farming."
Ask Pallavi and Ashok, if they wish to join farming, they immediately say "no."
Pallavi aspires to be a doctor while Ashok wants to be a scientist.
Member of All India Kisan Sangharsh Coordination Committee and Swaraj India President Yogendra Yadav said he had met these children during the Kisan rally in Maharashtra.
"We were pained to see what the family members have to go to after a farmer's suicide. We wanted to show it to people living in the power corridors of Delhi," he said.
The children also staged a street play on the occasion showcasing the plight of a family after their father commits suicide.