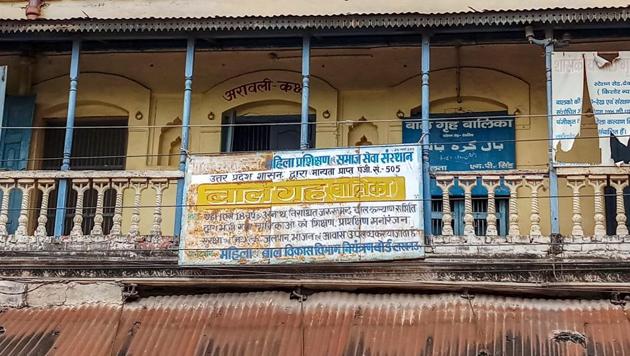 Couple who ran Deoria shelter home were secretive, got rich quickly, say locals
Locals say Girija and Mohan Tripathi had a sudden upward swing after Girija registered an NGO and started the shelter home eight years ago. The couple, who once ran a stitching centre, apparently now owns property and flats in the area.
Hindustan Times, Deoria (UP) | By Abdul Jadid and Chandan Kumar
UPDATED ON AUG 07, 2018 05:21 PM IST
For locals in Deoria, the Maa Vindhyavasini Mahila and Balika Sanrakshan Griha was just another crumbling building near the railway station.
But after police rescued 24 girls from the two-storey building on Monday amid allegations of a sex racket thriving on the premises, the shelter home and the couple who ran it quickly became the talk of town.
Neighbours said they never suspected anything amiss because police would often drop off minor girls at the home, using a small amber-yellow gate to enter the building.
"Police frequented this place which made it hard to believe that all these things are happening inside," said government school teacher, Mridul Pandey, who owns a house nearby.
"Entry at the shelter was closely guarded and I have never seen any of the girl outside unattended," said Kamal Kant Singh, another local resident.
The couple who ran the facility, Girija and Mohan Tripathi, were also secretive, but people in the town talked of how quickly their fortunes took an upward swing after she registered a non-government organisation (NGO) and started the shelter home eight years ago.
Watch: 'Cars came to pick teenage girls': Survivor of Deoria's house of horrors
Girija used to run a stitching and embroidery centre but now owns property and flats in the area. "Her days changed overnight when she opened this shelter house by registering an NGO. She amassed huge wealth in the last eight years and developed links with political people and VIPs," said Raghuvendra Gupta, who runs grocery shops close to the facility.
The home is located near the railway station on a busy road lined with eateries and hotels that are bustling all day. But the smaller gate of the building opens into a deserted road where locals said cars would often be parked.
"Every other day, a swanky car could be seen stationed outside but we thought she had a good image and so people would visit her, " said local Bharatiya Janata Party (BJP) corporator Ashish Gupta .
"Cars and vehicles of all kinds pass though this area frequently. I have also seen cars standing near the small gate of the building," said Kamal Kant.
Girija and her husband, Mohan, were among five people arrested after a 10-year-old girl escaped the shelter home on Sunday night by scaling the boundary wall and told the police about the alleged sexual exploitation of residents of the home.
Girija has denied all charges and said she was being targeted for demanding pending payments from officials. The government has ordered a two-member inquiry and has suspended the district magistrate.
When asked about the allegations, ADM finance Sita Ram Gupta said, "This is a subject of investigation and we are looking in to each such aspects . A government level probe is also underway."
Close