Police search on for hotelier who shot govt officer over Kasauli demolition drive
Dog squad, five dozen policemen comb nearby forests for hotelier who shot the assistant town planner. Posters bearing the suspect's image have also been pasted at various locations.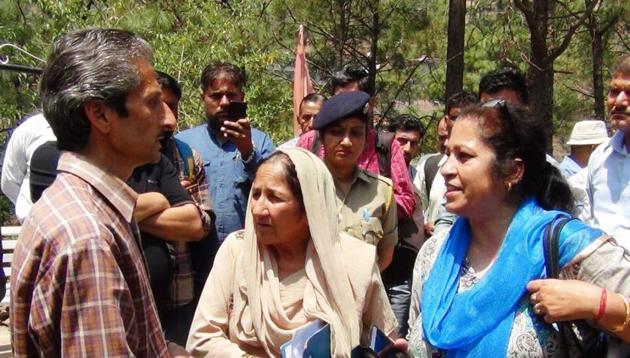 Updated on May 02, 2018 06:46 PM IST
A day after a woman government official involved in a demolition drive at Kasauli was shot dead by a hotelier, civic authorities re-launched the operation amid a full-fledged police hunt for the suspect on Wednesday afternoon.
Vijay Singh had shot Shail Bala Sharma, an assistant town planner, after a heated argument on Tuesday afternoon. The demolition work was being carried out in adherence to a recent Supreme Court order.
People familiar with the developments said hotel owners have now begun pulling down unauthorised extensions on their own accord. Armed policemen have been deployed at the residence of Singh, also a Himachal Pradesh State Electricity Board Limited employee, who absconded after the incident.
Meanwhile, over five dozen policemen and a dog squad have been combing the nearby forests for the suspect since Wednesday morning. "We have pasted posters bearing the suspect's image at various locations too," said superintendent of police Solan Mohit Chawla.
Read | Cops fled when hotel owner opened fire, says colleague of officer killed in Kasauli
A policeman said the demolition drive had been temporarily halted after the incident. "As the other workers were scared, the district administration held a meeting with the police," he added.
"The drive has begun now," confirmed sub-divisional magistrate Solan Ashutosh Garg.
A post-mortem of Sharma's body was conducted at the Indira Gandhi Medical College in Shimla earlier in the day, and preparations are on to transport it to her hometown in Mandi district for cremation. Gulab Singh, a PWD worker who was also injured in the shooting, is being kept under observation at the Postgraduate Institute of Medical Education and Research in Chandigarh.
Meanwhile, the other hoteliers have expressed their willingness to pull down their unauthorised structures. "I condemn this incident. Such things should not happen. Though we were not heard properly, we are ready to demolish portions identified by the department," said DJ Bhandari, owner of Pioneer Hotel.
Even Singh had demolished the top floor of his hotel on his own accord.
The demolition drive arose from an April 17 directive by the Supreme Court that gave hotel owners 15 days to demolish unauthorised structures on their premises. They were also told to deposit fines of up to Rs 15 lakh each.
Noting that some hoteliers had constructed six-storey buildings after acquiring permission for just two-storied ones, a bench of justices Madan B Lokur and Deepak Gupta said: "You just demolish it (unauthorised constructions). What is going on? You are admitting that you were supposed to make only two-storied buildings. There was a landslide on your premises and you did nothing. You are putting the lives of people in danger (just for money)."
Close Story