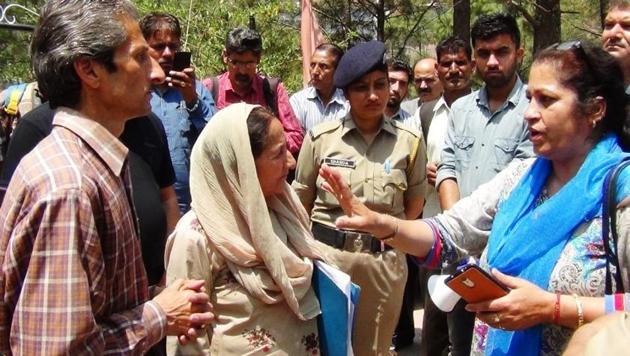 Cops fled when hotel owner opened fire, says colleague of officer killed in Kasauli
Assistant town planner Shail Bala Sharma was leading a team tasked to carry out demolition of 13 unauthorised hotels in line with a Supreme Court order.
UPDATED ON MAY 02, 2018 05:23 PM IST
Even as Kasauli hotelier Vijay Singh continues to be on the run after shooting dead a government officer after an argument over a demolition drive, a member of the demolition team said policemen present at the site fled after assistant town planner Shail Bala Sharma was shot.
Other government officers said police did not realise the sensitivity of the matter. "When the hotelier opened fire, they (cops) fled away from the spot," said a demolition team member requesting anonymity. The policemen were unarmed.
Solan's superintendent of police Mohit Chawla said a quick reaction team (QRT) was deployed with the demolition squads. "But they were on other sites as there were four demolition squads," he said. "I will inquire into the matter whether policemen fled from the spot or not. Action will be taken against those who are at fault," he added.
On Tuesday, four teams led by town and country planning officers reached Dharampur to start the demolition of 13 unauthorised hotels in line with a Supreme Court order. Officers first appraised hoteliers about the Supreme Court order before demolishing the unauthorised constructions.
There were heated arguments between Sharma and Vijay Singh that ended with the officer's murder. Singh had sought some time for demolition even as many other hoteliers started pulling down their illegal structures. He also showed some papers to Sharma who cited the apex court order and expressed helplessness to provide any relief.
"The assistant town planner asked Vijay Singh to cooperate since the drive was being carried out after Supreme Court order," said an eye witness.
After failing to convince the team led by Sharma, Vijay Singh fired three rounds from his pistol. One bullet hit the officer who died on the spot, while a PWD worker Gulab Singh was injured and rushed to Post Graduate Institute of Medical Education and Research (PGIMER), Chandigarh, about 60 km away.
Police have announced Rs 1 lakh reward for the arrest of Vijay Singh.
On April 17, the Supreme Court gave hotel owners 15 days to demolish unauthorised construction. They were also to pay fine of up to Rs 15 lakh each.
A bench of justices Madan B Lokur and Deepak Gupta had observed that some hotels and resorts were supposed to construct only two-storeyed buildings but built six-storeyed ones. "You just demolish it (unauthorised constructions). What is going on? You are admitting that you were supposed to make only two-storeyed buildings. There was a landslide in your premises and you did nothing. You are putting the life of people in danger. For what? Money," the bench had observed.
Owners of hotels, resorts and guest houses in Kasauli had earlier approached the apex court challenging the National Green Tribunal (NGT) order to demolish or close down establishments extended without approval.
Read | On Kasauli shooting, Supreme Court says will stop passing orders if 'people are killed'
Close