20 lakh jobs, new electronic city: Top highlights of Delhi's 75,800 crore budget
Mar 26, 2022 12:33 PM IST
Delhi budget: The 2022-23 budget is the "Rozgar budget", Sisodia said in the state assembly.
Twenty-lakh jobs in next five years, a new electronic city and a new start-up policy - these are some of the top highlights of Delhi's ₹75,800 crore budget this year that was presented on Saturday by deputy chief minister Manish Sisodia. This is the eighth budget presented by the AAP government for the national capital. An 8 pm-2 am food truck service to encourage the "night economy" and an annual shopping festival to encourage tourism also find a mention in Sisodia's budget. "The Delhi team economy has worked hard to understand the needs of the people for today and tomorrow," he said on Saturday morning.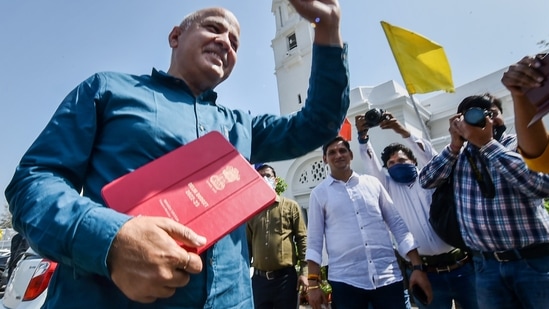 The 2022-23 budget is the "Rozgar (employment) budget", the deputy CM, who also holds the finance portfolio, told the state assembly.
"Delhi's economy is recovering gradually from the impact of COVID-19. The budget allocation for 2022-23 is ₹75,800 crore. I have brought an agenda for job creation and to give respite to people from impact of the pandemic. More than 1.78 lakh youngsters got employment in the last seven years in the city, and 51,307 of them got government jobs," he said. According to PTI, this year's budget is 6.8 per cent higher than the last fiscal year ( ₹69,000 crore).
Here are some more highlights of the Delhi budget 2022-2023:
> A new electronic city will be set up in the city, the deputy chief minister said. Calling the national capital, India's "start-up capital," Sisodia said: "Our start-up policy will remove all barriers for young entrepreneurs."
>Ahead of municipal elections, the AAP government has allocated ₹6,154 crore allocated to civic bodies.
> An international annual film festival under 'Delhi Film Policy', and a shopping festival to boost tourism have also been announced.
> An artificial intelligence-based website and a mobile application -- "Rozgar Bazaar 2.0" -- will be launched with an aim to provide at least one lakh jobs every year to Delhi youth, especially women. "Unless women are provided enough job opportunities, India can't become a developed country," Sisodia said.
> "Delhi Bazaar Portal" will be set up to boost retail markets. This would be 24*7 virtual store with zero set-up cost that aims to benefit 10 lakh vendors, the AAP government said.
> An electronic city will be set up at Baprola to create 80,000 jobs.
> An amount of ₹1,900 crore has been proposed to upgrade the state-run hospitals. An amount of ₹475 crore has been set aside for "Mohalla Clinics" and polyclinics in the 2022-23 Delhi budget.
> Yamuna river is expected to be completly cleaned in the next two years, Sisodia said.
"Other states have learnt a lot from the Kejriwal model of governance when it comes to improving government schools and creating jobs. I am sure that with this 'Rozgar Budget', Delhiites will be benefitted. In the next one or two years, state governments will also learn from this (Rozgar Budget) on how both government and private sectors can provide opportunities for people," Sisodia said during his budget speech.
(With inputs from PTI)