Delhi Police arrest 3 from private school in Himachal for CBSE class 12 Economics paper leak
Updated on Apr 07, 2018 11:00 PM IST
The three arrested is an exam centre superintendent, a clerk and peon of a private school in Una, Himachal Pradesh.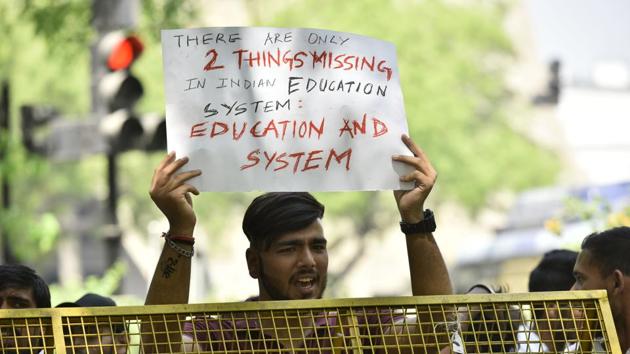 Hindustan Times, New Delhi |
Shubhomoy Sikdar
The Delhi Police said on Saturday they had arrested three employees of a private school in Himachal Pradesh's Una for allegedly leaking the CBSE Class 12 economics question paper by circulating its handwritten copies on a mobile messaging service.
Commerce teacher Rakesh Kumar, clerk Amit Kumar and peon Ashok Kumar — all employed at the DAV Centenary Public School — leaked the paper on WhatsApp on March 23, special commissioner of police (crime) RP Upadhyay said. The examination was conducted on March 26.
"Rakesh Kumar, deputed as a centre superintendent in Jawahar Navodaya Public School, had gone to collect the question papers of computer science and informatics practices from a Union Bank of India branch. However, from there he picked a packet of Economics paper as well," said Upadhyay.
The three school employees then allegedly asked one of Rakesh Kumar's students from his private tuition classes to write down the contents of the question paper and took photos of the document.
"Rakesh also sent a copy of the photograph to a female relative in Chandigarh to help her son pass the exam, but she went on to share it with others and from there it went viral," said Upadhyay.
The police had earlier arrested two teachers of a private school and a coaching centre tutor in Delhi for allegedly leaking photographs of a printed copy of the paper. The CBSE has announced that the economics paper will be held again on April 25, sparking protests by students and parents.